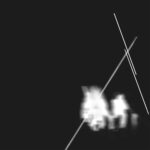 Sometimes letting go of hope is like laying down a heavy burden. Leaving you unfettered. Free to finally feel the pent-up rage and despair. To use them as fuels. We don't need to be fixed, well-rested, reasonable or whole to keep fighting. We thrive in chaos.
»Never Talk To Strangers« from the upcoming
It's Everyone Else
album is coming digital on all platforms on April 22nd.