Hard to believe, but true: in 2018, Noise Appeal Records turns 15, marking an unbelievably long, but intense time. Artists came and went, just like acquaintances and business partners did. What came to stay was some grey hair, just like the label itself. And it's still a big part of my life.
I often get asked how long I want to continue doing this "side job", to which I reply that I'll do it as long as there's a breath in me. Maybe it's because my point of view is different. To me, my "normal" job is actually my side job, which helps me fund my life, and Noise Appeal Records is a part of that.
Unfortunately, I have to say, it's still not the main part. It was and still is my dream to one day have the label as my "normal" job. 'You're a dreamer' is what I hear quite often when I share this wish, adding that it wouldn't be the same if it really was my only job, forcing you to bend over backwards, pushing the artistic aspect into the background. This I don't and don't want to believe. Because, even if that's true – nothing worse shall ever happen.
But back to the start. Noise Appeal Records turns 15, which has to be celebrated. But how? When we turned 10, a dream came true when I was able to work with one of my all-time favorite artists, Hans Platzgumer, and put together and release the "HP Zinker 7inch" box.
So what is more obvious than releasing another 7" box with one of my favorite artists? Well, it's not a box, but a 7" club subscription with 24 artists that walked alongside Noise Appeal Records during those 15 years, and influenced, accompanied and impressed me with their following projects, side gigs and new and unknown ways.
Who these artists are and who shares which single with whom will be revealed here shortly. But for now, step by step. After all, we want some suspense, don't we? We will have 100 subscriptions, not more. 12×7", one band per side, 24 songs in total in black as well as colorful vinyl. Silkscreen covers and a download code for the last single, which allows you to load all songs onto your pc, phone or mp3 player.
But: this project wouldn't be possible without your help. And if I wasn't myself I would have used established crowdfunding platforms, but as you know, that's not my style. My style is DIY or more DIWF, which means "do it with friends". In my case this friend is Michael (DSGN/CDE), who's been with me for quite a while and kindly designed a website. Which is also the only place you will be able to get this subscription and pay it upfront. To save shipping fees, we will ship four times a year, three singles per shipping. If you prefer, you can also pick up your orders yourself!
I am really looking forward to share a lot of new and old music with you next year. Music always meant the world to me and hopefully, to you too, starting 2018.
Noise Appeal Records
Not that much to say! Satan 1 met up with Satan 2, Satan 3 and Satan 4 to do form a hell of a band called Satan! Satan! Satan! Together they wrote a song called "Vulcano" to release it through the 15th anniversary singles club. The first sign from hell since mid 2017. The big surprise for all of you.
Satan 1: Voice & Synth
Satan 2: Bass
Satan 3: Pitched Guitar
Satan 4: Drums
Music: Satan! Satan! Satan!
Recording: Satan 2
Editing: Satan! Satan! Satan!
Mix: Satan! Satan! Satan! June 2016
www.facebook.com/satansatansatanband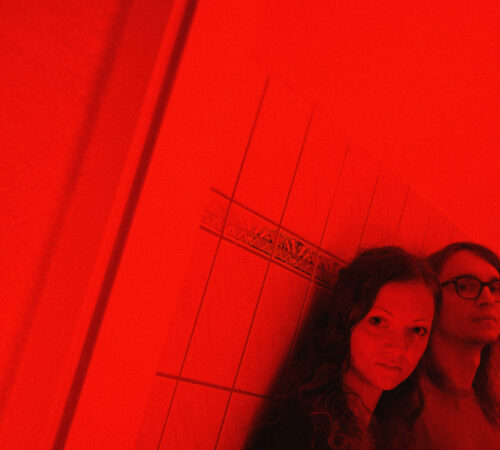 In late August of 2013, I received an email by Lucijan from It's Everyone Else. He invited me to come to one of their concerts on Badeschiff at the Waves 2013. So I did. I didn't have that many expectations, not about the band, but the setting of the showcase festival. Anyways. I went there and was blown away. They have been killing it at the venue and impressed everyone that showed up. I loved it from the very first moment until the last note they played. I wrote them that same night to tell them how much I liked it and that I wanted to meet up – and so we did. We released "New Religion" in April 2014 and became close friends. I did the worst crowded shows for them in Vienna, during which they stayed in my flat and what can I say – we had a great time. Lucijan and Pika are one of the hardest working artists I have ever met in my life – not just music-wise, but also art-wise. In between they managed to write and record an exclusive track for the 15th anniversary singles club, a fact that makes me unbelievably happy! Another fact that lets me sleep well is that they will soon start to work on their new album. It will be number three on Noise Appeal Records. And counting.
Music and lyrics by Lucijan Prelog and Pika Golob
Mixed and mastered by Robi Bulesic
itseveryoneelse.tumblr.com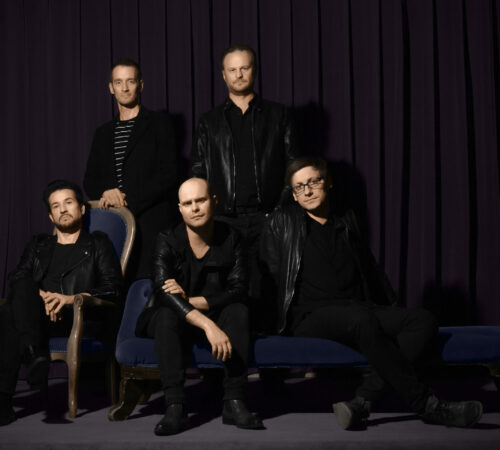 Another band that shows exactly how many different things can come together at Noise Appeal Records. David and Christian are part of the hosting team of FM4's House Of Pain radio show, who supported my label right from the start. Christian was singing in Fetish 69, one of my all-time favorite bands in Austria, while Robert played in The Striggles and released a couple of records on my label. Ralph, the drummer, plays in Couscous as well, so have a guess where their latest album got released? His other band, Vienna Rest In Peace, contributed a track for the 15th anniversary singles club. Bernd, the keyboard miracle worker, has a band called Scarabeusdream and their new album is coming in January 2019. Christof, rocking bass and guitar in Die Buben Im Pelz, plays bass in The Happy Sun, another Noise Appeal Records band. And then there's Markus, a great guitar player. His band Destroyed But Not Defeated is releasing their new album in January 2019 on Wohnzimmer Records. Talking about the future? Before Die Buben Im Pelz are going to work on new stuff, they will release an acoustic version of Femme Fatale of their well known debut on Konkord Records through the 15th anniversary singles club. You got all the information? I love them …
Music and text by Lou Reed
Die Buben im Pelz are Christian Fuchs, David Pfister, Christof Baumgartner, Markus Reiter and Ralph Wakolbinger
Producer: Bernd Heinrauch
Photo: Theresa Lipp und Michael Zahnschirm
Pretty new on Noise Appeal Records are The Ghost And The Machine. In September we released their album "Red Rain Tires". Since that, they have been pretty busy and played concerts in Austria and Germany. One of the tracks that didn't make it on the album, "Dead Or Alive", is now part of the 15th anniversary singles club. As I always talk about the connection between the Noise Appeal bands, there is one as well: Ash My Love. As Heidi helped out for a few Ash My Love shows when Ursi had some health issues, Andi got to know the music of The Ghost And The Machine. And because he felt that their music would fit well together with Noise Appeal Records, I met up with Andi and Heid to talk about a future release. I went to see one of their concerts and from then it all went very fast: we released "Red Rain Tires" and on top, became friends. Another relationship I would never want to miss – dead or alive.
The Ghost And The Machine is Andi Lechner, Heidi Fial and Matthias Macht
Recorded and mixed by Chris Neuschmid
Photo by Karin Hackl
the-ghost-and-the-machine.com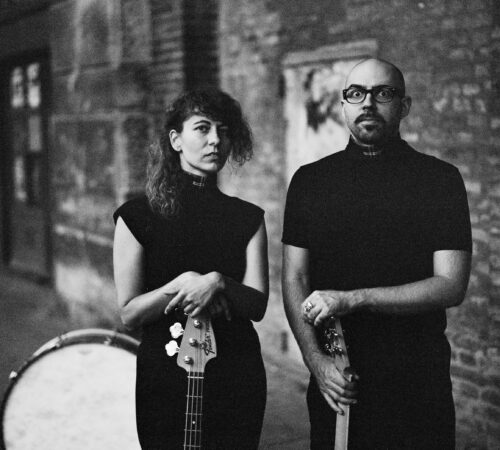 In the blink of an eye, one band appeared in Vienna and their name was Ash My Love. Media went kind of crazy and their concerts have been packed like hell. At least this is how I remember it back in 2013, when I got an e-mail from Andreas Dauböck, who is the male-singer in Ash My Love, if I could imagine to release their debut album. Honestly, I was kind of shocked as I expected that band on a way bigger label. So we met up – Ursula Winterauer, Andreas and me. And we decided on a long term relationship that lasts untill now and will keep on going, as we all are friends, I love their music and I am sure that Ash My Love can spread their music to many more people. As cover songs always have been part of the Ash My Love sets and recordings, they recorded another one for the 15th anniversary singles club. Surprise, surprise.
Text & Music by André Herman Düne
Photo by Kurt Print
www.ashmylove.com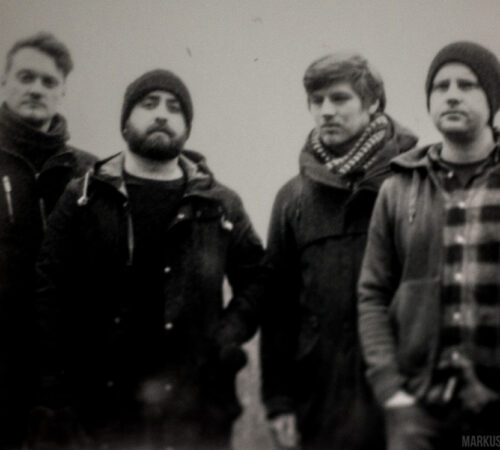 Lehnen and Noise Appeal Records needed a rather long time to find each other. Well, okay, maybe not that long, as Martin has already contributed one track for the singles club (Diamond Seas). He contacted me when Lehnen were working on their "I See Your Shadow" album. I liked their demos, but at the same time remembered that I have seen them before, playing at Chelsea in Vienna. Back then they were some pretty cute emo-kids, knowing how to play their music very well. That fact (back than I wasn't that much into emo-kids), including a lack of time (and money) made me say "no, not this time".
Martin kept asking when "Reaching Over Ice And Waves" would be in the making. As I was still regretting that I hadn't released "I See Your Shadow" (cause the album is a great one!) and liked the demos of "Reaching …" I met them for a chat and some beers and we decided to work together, which made me very happy. The "Reaching …" 2xLP got released, a friendship developed, a new track for the 15th anniversary singles club got produced and a new album is in the making. It's a bright future isn't it?
Lehnen is Joel Boyd, Martin Konvicka, Matthew Prokop and Stefan Sieder. Written, Recorded, and Produced by Lehnen. Mixed by Stefan Sieder.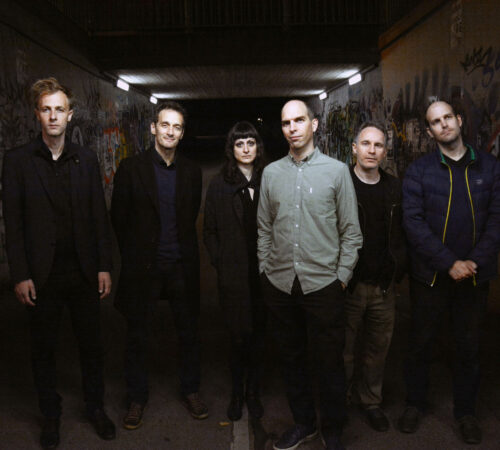 What's the connection between Vienna Rest In Peace and Noise Appeal Records? Ralph Wakolbinger! Ralph is kind of never sleeping and one of the hardest working musicians I have ever met. He is always on the run and most of the music he is involved in has an unbelievable high quality. Two bands he is in are already signed on Noise Appeal Records: Couscous and Die Buben Im Pelz. So that's the one string of the net. Another one is that Vienna Rest In Peace are truly amazing! They do their very own and unique version of Austrian music. Suits Vienna like the bands name does. It is morbid indeed, but life-affirming as well. Their music sings and swings in the same time and shows exactly how life in Vienna is: hate and love having a love affair and enjoying life. So, I'm happy to announce an exclusive new track of Vienna Rest in Peace: Herz aus Gold.
Created and recorded by Vienna Rest in Peace
Mixed by Gregor Tischberger
Photo by Wolfgang Gosch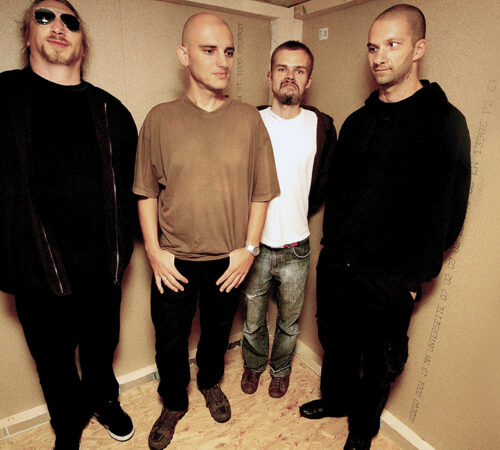 Oh god, I don't even know where to begin when writing about my relationship with The Striggles. I released their debut LP, which was titled "Expressionsim", in 2009, with Ziggy gracing the front cover. It was a long time ago, but the real story started even earlier, somewhere in the 90s, when I was a fan of the Austrian noise-metal-industrial-outfit "Fetish 69" and travelled around Austria (and even Slovenia) to see them live. Back then, Robert Lepenik was the band's guitar hero. So, when I received a letter in 2007, packed with a CD and signed by Robert, I was extremely excited. I listened to the music of "The Striggles" and was blown away. It was a very unique kind of noise-rock, packed with some blues influences. I fell in love and knew that I needed to release this album. Shortly after we met, made a deal and went on a journey that concluded with the release of their self-titled double LP (in cooperation with Rock is Hell Records). No worries, The Striggles are still active and our friendship strong, but we went our separate ways. Still, there was never a doubt in my mind to ask The Striggles to join the 15th anniversary singles club – and they of course said yes. And since you can never know what you would get if you ask them for music, I thought I was prepared for everything. I was sure nothing could surprise me. Well, I was wrong. They delivered "Eissalon", an electro kind of "Schlager" track, which is perfect for dancing and the perfect track to complete the circle.  
Credits:
Words and Music by The Striggles (Kajkut, Krienzer, Lepenik, Plass)
Recorded and mixed by The Striggles
Thanks to Kurt Bauer for the beautiful violin tracks!
Bug from Innsbruck have been around since 1997, so for more than 20 years! And since I have known them, they have been living the DIY culture. I am not sure when I saw them live for the first time, but one thing is certain: they have been accompanying Noise Appeal Records since the very beginning. The first ever vinyl release of the label was the 27/Bug split LP, which we did in cooperation with Interstellar Records, the band's long time label partner and homebase. As a friendship arose between the label's girls and boys, the friendship with the guys from Bug grew as well. I truly love their energetic (and loud) concerts and it always is a pleasure to experience their grooves, their attacks and their energy. And even if the guys are probably among the nicest people I ever met, this band is a true beast, a monster, a true killer.
Credits:
Music by Altmayer/Deutinger/Hofer
Lyrics by Dolp
Recorded, engineered, mixed and mastered by Magi (Mathias) Magerle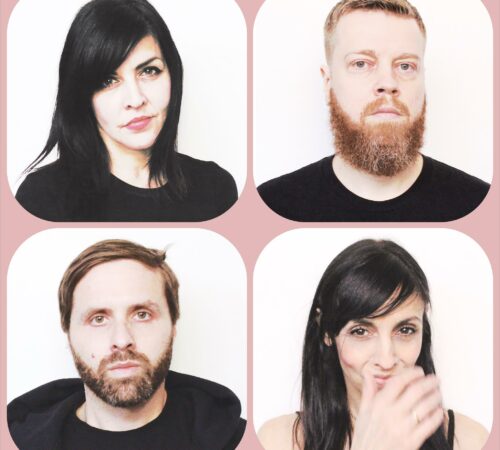 The path of twenty27seven and Noise Appeal Records crossed for the first time on the 15th of September in 2003, when we booked a concert for them at das Bach in Vienna. They were supported by United Movement, who got signed by the label as well. Well, but twenty27seven never really signed. We did some special projects together, like the split LP with Bug (the first vinyl released on Noise Appeal Records), a 7″ later on and then kind of became penpals. We did another concert with them in Vienna, in 2005 at the Shelter. Those are the facts.
More important is that twenty27seven are great people and through them, we got to meet and later on became friends with the people at Interstellar Records, whose paths we crossed a couple of times. Together, we realized projects, but more friendship-based. It's a relationship that still exists, what makes me very happy! As I wrote, Interstellar is responsible for three more signings I did with Noise Appeal Records.
But back to twenty27seven, who managed to record one song for the label's anniversary singles club. twenty27seven couldn't have known how much they hit my heart with their cover of Dolly Parton's "Jolene". I wouldn't say that I'm a huge fan of Dolly, but she at least did one song that accompanied the probably most important moment in my life.
So, the circle is closed! The "Jolene" version of twenty27seven is unbelievable great and deeply touched me when I listened to it for the very first time. And it still does! Thank you twenty27seven!
"Jolene" (Dolly Parton) covered by twenty27seven
bass by Ayal Naor, drums by Terri Christopher, guitar by Adam McGrath, guitar & vocals by Maria Christopher
Recorded and mixed by twenty27seven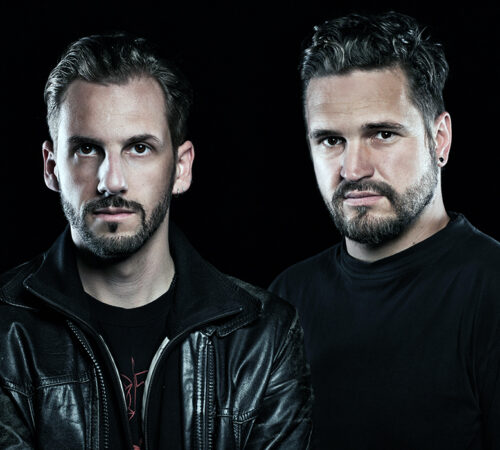 Reflector. What can I say, but wow? They are true Noise Appeal-veterans. 12 years ago, we joined forces to release their label-debut "Phantoms". The first time I saw them live was at a concert at the fireworkers (?) hall in Weiz. Sure, Flowers In Concrete were a part of this event as well. Back then, Andi still had dreadlocks, now be both look a bit different. Because time's running and so is our hair. But, the good thing is – the friendship always stayed, until this very day. We have worked together on several releases and you never know what the future might bring. As veterans and friends they needed to be a part of the "15th anniversary singles club" too, because I just couldn't imagine to do this without a track of Reflector. As they are writing new stuff and will probably release this new material soon, we decided to re-re-release an old one. No kidding. "Disillusion" from the previously mentioned "Phantoms" CD. The first re-release was for the ban's 15th anniversary singles box (As I said: No kidding!) and I had the honor to be a guest vocalist for the re-release. So, this one got released on a huge birthday bash at Explosive in Graz, a couple of years ago. I joined them on stage that very night and the entire show got recorded. Therefore, the version of "Disillusion" we played that night, featuring Martin Plass from The Striggles and ddkern from Bulbul, Fuckhead and thousands more, got mixed by Bernd Heinrauch and will be part of the labels "15th anniversary singles club". If you wanna see me "rocking" the stage with Reflector, just click this link: https://youtu.be/m5wBjkZxU0U
"Disillusion" featuring Martin Plass, Dominik Uhl and Ddkern (Didi Kern)
live Explosiv Graz, 24.11.2012 (15 years anniversery)
mixed by Bernd Heinrauch
Reflector is Andreas Heller and David Reumüller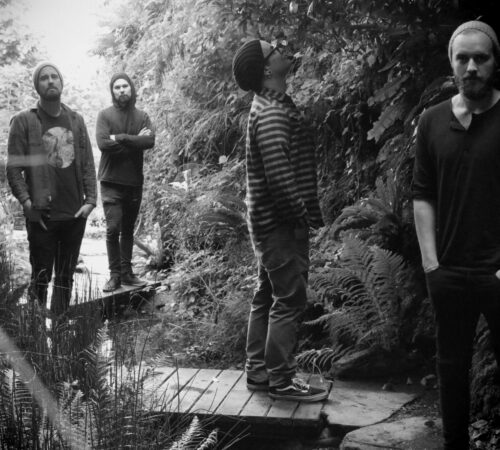 The history of Doomina and Noise Appeal Records goes way back to 2013, when Daniel first asked me if I'd be interested in releasing their music. I was, but unfortunately didn't have time nor the budget left to join the project. So Doomina released "Beauty" by themselves. In 2015, the so called post-rock year of Noise Appeal Records (Lehnen released their label-debut in 2015 too), our paths crossed again and we finally did it: We released the band's third self-titled album – a true blast of a postrock-album. It turned out amazing and our relationship devoeloped into a friendship. Since their debut "Elsewhere" wasn't released on vinyl, we did a very small run of "Elsewhere"-vinyl packed in a silkscreened jacket. And now, after a very long time of working and playing concerts, Doomina will be back with their fourth album, coming up on October 19th, 2018! Their track featured within the "15th anniversary singles-club" is a small preview on how the album will sounds like. It's probably the most poppy tune these guys have ever written. Poppy? Yes, it is – be prepared for the next step of my friends in Doomina!
Recorded and mixed by Marcolino Perdacher @ Pegel Studios
Music by Doomina Photo by Corinna Michl
To discover the actual album recordings of Couscous & Boris Hauf from two years ago was a great experience for me. And because it was that insane, I never doubted to release their record "Eisen". Well, Couscous & Boris Hauf are not making an easy kind of music. You need to really engage with their music and dive into their art. But if you do, it will pay off. There are so many different layers you can and will uncover and each time you do, you will understand their music better and better. Besides the art they make, they are also great people. Meeting and chatting with them has always been a pleasure. Through the work and acquaintance with Couscous I met so many amazing new people and with some of them, I even started working on other projects. As you, dear readers, can see – every new acquaintance opens new doors and new possibilities. Just as much as Couscous' music does. So do yourself a favour and start your expedition right now!
Guitar by Thomas Binder-Reisinger, Bass by Andreas Ledl, Saz by Martin Max Offenhuber, Oktapad by Ralph Wakolbinger, Synthesizer & Baritone Saxophone by Boris Hauf Music by Couscous & Boris Hauf   Recorded by Gregor Tischberger & Matthias Kastner at GoldlackStudio, Vienna, January 2018 Edited by Martin Max Offenhuber, Mixed by Gregor Tischberger in February 2018
Photo by Klaus Pichler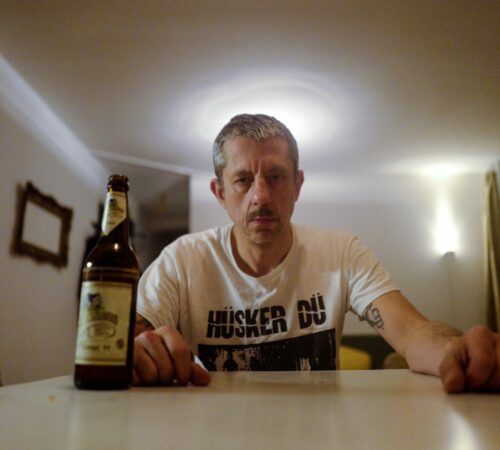 A long time ago, I went on a private trip to Berlin, to attend the wedding of some very close friends. As far as I remember, this trip was the beginning of a relationship, which transformed into a friendship. Thomas and I usually meet whenever he's in Vienna or when I fly out to Berlin, sometimes, we even manage to get together when we're both in Poland.
What I came to know is that Thomas is one of these people who live for their passion, for music. His knowledge is insane and he's always interested and open-minded. Of course, he's very creative and gifted as well. So, he is running his own record label, Tomatenplatten, where he releases his own music and even manufactures vinyl by himself.
At one of our walks through Vienna, the idea was born to ask him if he wanted to join the Noise Appeal 15th anniversary singles club. He was immediately on board and did a great version of Grant Hart's "Is The Sky The Limit". Very reduced, with piano, flute and vocals. ­A song that, when I listened to it for the very first time, made me smile the same way as talking to Thomas does.
So, as another none-label-act, but a very inspiring person, it makes me very happy that he joined the project and shares a tiny piece of his musical output through my label with all of you. Thank you, Thomas!
Music and Lyrics: Grant Hart
Interpretation: Einerbande
Flute: Mila Morgenstern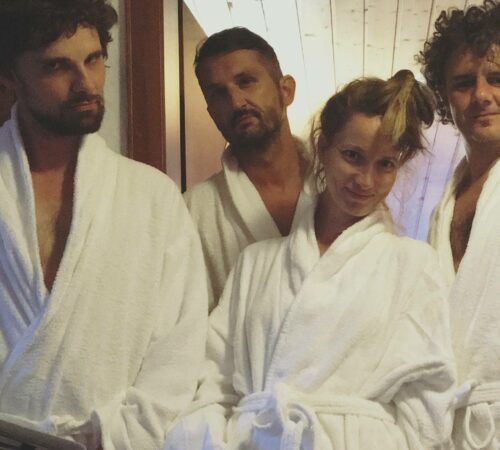 Hella Comet are one of my long term-bands. We've been working together for more than seven years and it has always been a pleasure. We lived through so many adventures and trips that we became very close friends. I would never not meet them. 
I still remember the call from my friend Richie from Interstellar Records a couple of years ago, when he told me about this band from Graz. They had just released an amazing album called "Celebrate Your Loss" on Pumpkin Records and were already working on new songs and if I could imagine signing them. As I always try to keep an eye on new music and artists, I have already known them and was really excited about Richie's call. But in the back of my mind, I was also a bit sceptic if they weren't too big for my rather small record label back in the day.
But we still met up and had a very nice chat – the rest is history! We've been touring together, gone to the Eurosonic Festival, recorded "Locust Valley" in Berlin, and released a 10" record as well as two full length albums – "Wild Honey" and "Locust Valley". 
But the best is that, after all this time together, our journey is still far from over. As proof, I am very happy to announce that Hella Comet recorded an exclusive song for the 15th anniversary singles club, called "turf".  
Credits:
Music by Franz Gurt, Jürgen Hochsam, Martin Pfeiffer, Lea Sonnek
Lyrics by Lea Sonnek
Mixed by Bernd Heinrauch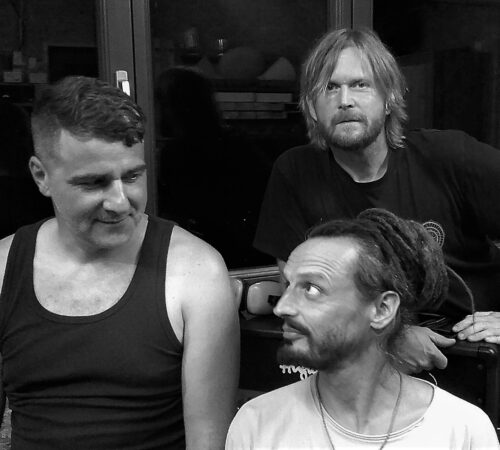 When I heard about Flowers In Concrete are going to play a few shows again, I suddenly felt pretty young again, like having a special kind of back flash. Everyone has this one band that they can connect with, that means something – and Flowers In Concrete is mine. My time with Flowers In Concrete started when I began studying at a technical high school in the town next to my hometown. I slowly dropped out temporarily because of my passion for Noise Rock and Grunge to become a part of the small, but very much existing Hardcore Punk movement in my area. I was disrupted between the rough and heavy stuff from New York and the political Punk movement. I needed its heaviness and the message it transported and became a very important part of my development and made me the man I am today.
Then, there was this one band from a small village, called Flowers In Concrete. A band with that exact message, a band that oozed heaviness. At first, I didn't get it, but then fell madly in love. To this day, I have seen them play live over a dozen of times and I still remember when sitting together with these guys, having a drink and chatting for the very first time. I always believed that there was a line between bands and their fans, a line that you don't cross, but turns out, that's not true. Therefore, I realized that I could bring some bands to my own hometown and start organizing concerts. For a few of them, I invited Flowers In Concrete.
Sadly, they never managed to release a record that was able to catch their true sound, the sound you hear when you stand in front of them, listening live. When I heard that they were out playing concerts again, it was around the same time I was planning the whole 15th anniversary club project. I suddenly felt like everything came back full circle, which is why I asked them if they would like to record a song for the club. In the end, they did, together with the help of Franz from Sissi Top Studio and Zwanzger from S.T.R.E.S.S. Studios. As the one and only exception, they have two songs on their side of the singles-club, which makes me incredibly happy and which will make you happy too, I promise.
Credits
Music by FIC, Lyrics by Tom Recorded by Franz (Hella Comet) on October 10th, 2017 at "Sisi-Top-Studio" (sisi@mur.at) Mixed by Tom Zwanzger (tomsxe@gmx.at) on October 24th, 2017 at S.T.R.E.S.S.-Studio (www.stressstudio.com) Flowers In Concrete are Tom (vox/guit), Pepi (drums) & Flax (vox/bass) (www.facebook.com/flowersinconcrete) We would like to thank Dominik Uhl & Noise Appeal Records, Franz & Hella Comet, Tom Zwanzger, Jo Höbel, Wolfgang Grill, Romeo Ried & JKZ Explosiv, Aya & Ginga, Raphael, Iva, Ulli, Ilka, Anna & Ilian.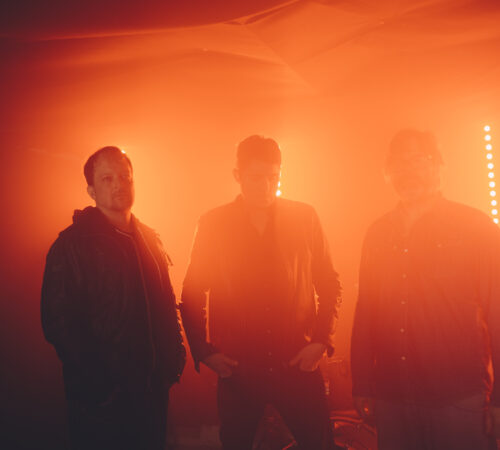 Running a record label means, besides working for the existing roster, to always be aware of new bands and music. Visiting concerts, reading papers and magazines, listening to demo-recordings and then, to even more demo-recordings. You listen to a lot of crap, a lot of very good music and every now and then, you listen to an outstanding piece of music that fits your label's profile.
The last thing happened somewhere in mid 2016, when I was e-mailing with Max and talking about several things and he mentioned his band TRACKER and that they recorded a new album. Shame on me that I hadn't known them back then. Anyways: He sent me the recordings and well … "Rule Of Three" got released on June 16th, 2017 on Noise Appeal Records.
This album did hit and still hits me like not many records do. Even more: it makes me incredibly happy that TRACKER recorded one new song exclusively for the 15th anniversary singles-club of Noise Appeal Records, which is called "Set Controls To Stun" and drives forward, targeting a wall to hit it in full effect. If there is a typical TRACKER rock song existing, this is one of them: Noisy, melodic and heavy. Exactly how I love it and so will you!
Credits
Recorded by Christian Mayer & Tracker
Written & Mixed by Tracker
Photo by Elias Holzknecht (www.eliasholzknecht.at)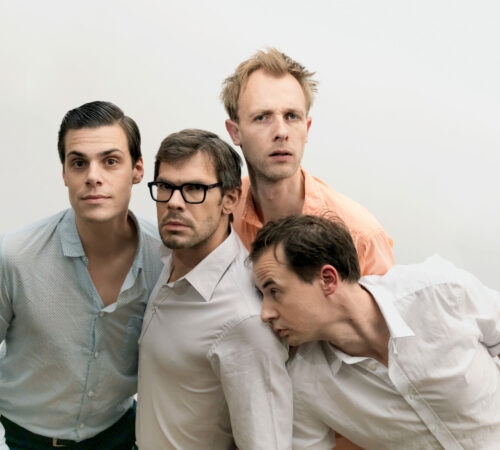 Its been a few years when I was driving in my car, listening to a song on radio FM4. It wasn't any kind of song, it was a kind of rough I didn't expect from a radio station during the daytime. It hit me straight in the face and at first, I thought it was Surrogat from Berlin, but it wasn't. It was Kreisky from Vienna. Close, but no cigar.
Kreisky became one of my favorite bands from Austria. Of course besides the bands I already released on Noise Appeal Records. So far I was not able to release a song of Kreisky, even if there were plenty of connections between us. Kreisky where sharing a 7" with The Striggles (former Noise Appeal-band) on their "Schiizo-Box"-project and also played the same stages. Martin, who plays guitar in Kreisky released his very own band Couscous on Noise Appeal Records.
In the end, it was just a matter of time when Kreisky and myself would collaborate for a special project. Now we finally did just that: shortly before Kreisky is going to release their new album (Wohnzimmer Records), an outtake of the recording session for the album called "Das Fleisch wird knapp" is going to be on single number four of the 15th anniversary singles club.
And what can I say about the song? It's Noiserock-bomb as you would expect it from Kreisky. 4 Minutes and 23 Minutes of pure Kreisky-madness. It makes me happy and it will certainly make you happy as well.
Credits
Franz Adrian Wenzl: Stimme, Orgel, Synthesizer, Martin Max Offenhuber: Gitarre, Chor, Gregor Tischberger: Bass, Chor, Klaus Mitter: Schlagzeug, Chor
Produziert von Kreisky, Musik: Kreisky, Text: Franz Adrian Wenzl
Aufnahme: Gregor Tischberger & Matthias Kastner, GoldlackStudio, Wien, Jänner & Juli 2016, Editing: Martin Max Offenhuber, Mix: Alex 'Feia' Tomann, Beat4Feet-Studio, Wien, Juni 2017, Mastering: Martin Scheer, Oktober 2017
www.kreisky.net
As I mentioned before, I will get back to Michael and Peter once more during the presentation of the 15th anniversary 7"-club. When United Movement stopped to be active and we lost contact, I didn't expect what will come after that. I think it was somewhere in late 2009 when I heard about a new band in Vienna. It was a four-piece, an Instrumental Post-Whatever-Dance-Rock-band. The band of Michael and Peter. They formed it with Gunther and Werner – two drums, two guitars, using synths every now and then. I had no idea what to expect, so I took the first chance to go to one of their concerts and it totally blew my mind. The precession and dynamics paired with the drive was unbelievable. Yes, it was a Noiserock-band, but also a Dance-band as well. They created something very unique – not just their constellation and outfits were special, the music was something else as well. It united Rock-sounds and Dance-minimalistics in a perfect way.
Not much later we met at a bar in Vienna and started talking about a collaboration, to reunite Peter, Michael and myself again. As Werner and Gunther gave their ok as well, we "signed" a contract for their debut album "Power", which took us another two years, until 2012, to be released. And what was a masterpiece back then, is still one to this day.
Sadly, it didn't get as successful as it would have deserved and neither did the band. Maybe "Sex On The Beach" wasn't the best name for a band? Maybe. But as many circles are closing in this anniversary project, I am very happy to release "Together In Motion", one of the very last SOTB-songs ever recorded, in honor of a band that is no more. And I am still bummed about it.
Credits:
All Songs written and performed by  The Russian, Master T, Romero III and Buffalo Perfect
Recorded, mixed and mastered by Valentin Langer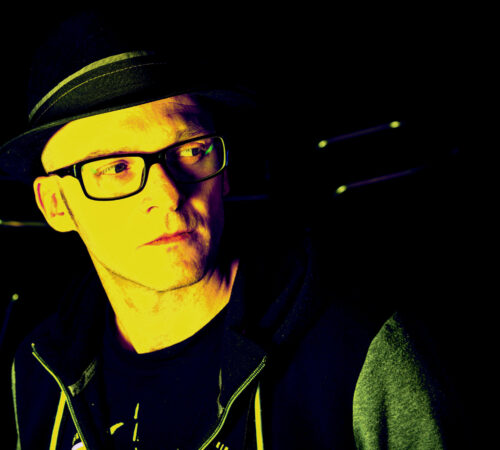 |Phil.> has been part of the Austrian underground-music-scene and DIY culture for ages. Always connected to one of the most important and autonomous culture places of Austria, the KAPU in Linz. As I myself am a "child of the 90's", the century I grew up and received my musical education, I remember times when bands like Deadzibel, Strahler 80, Kurort, Flowers In Concrete and many more were sharing stages. When people like me got to see that music can be much more than just music, that music can be a statement and can make a decision for you. The decision what human being you want to be. I'm very thankful that I was able to spend my youth in these times. And I'm very thankful that |Phil.> is now part of my labels 15th anniversary singles club. Normally, he is known for hard rocking bands, right now (and since 1998) in "Porn To Hula". Guess what? That's another anniversary. Besides the heavy guitars and the stamping beats, he has a huge talent for songs that are reduced to point. Using a guitar, some beats and a bass-guitar is everything you need to get the acoustic version of "Intoxicated". It's his very own orchestra, a laptop-sound-community also known as the "Phil Sicko Orchestra" and underlined by his great voice, reminding the listener of the good old 70s. When the transverse flute slowly starts to overtake the melody of "Intoxicated", you begin to feel hearted, warm and welcomed. You're home. The feeling of the past and the vibe of the present, that's what it is!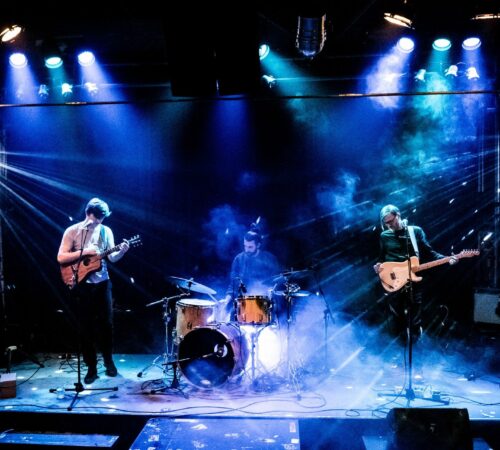 Another friend of mine with whom I walk the path together for years is Martin. I think Martin and I became friends when he got in touch with me for the third LEHNEN record, "I See Your Shadow". Back then, it didn't work out to join forces, but it luckily did for their fourth record, "Reaching Over Ice And Waves". Besides LEHNEN, Martin also had a band called "THE WHO THE WHAT THE YEAH" and I was and still am a very big fan of them, even if they broke up long ago. Or did they?! Their energy great German lyrics caught me immediately. As we know that age and life is slowing some of us down a bit, Martin started his solo-project "DIAMOND SEAS" in 2016. He wanted to bring his very own musical vision to life and produced his first songs by himself. Doesn't mean just his voice and a guitar and also not the classical singer-song-writer-setup. It was more from the very beginning and I had the honor to accompany the development of "DIAMOND SEAS" right from the start. I could see amd hear the sound growing. What brings us back to the present. The "DIAMOND SEAS" track for the 15th Noise Appeal anniversary singles club is called "I don't think so" and will be release on single number two, which is where he will be joining Michael Hanisch. If you think that this is going to be a quiet Singer-Song-Writer split 7", you are completely wrong. "I don't think so" is a rock song played from a trio-band-setting. Guitar, bass and drums. Straight away. And while it reminds me a bit of "THE WHO THE WHAT THE YEAH", it is still totally independent. Martin is asking the questions all of us music addicts have in our heads: "Will we ever get tired of strumming chords and singing out loud?" The answer to this question is easy: "I don't think so". It's the answer, it's our life, so: we don't think so as well! So, I'm pretty sure, that I will still release records when celebrating the 20th anniversary of Noise Appeal Records. And I am certain that Martin will still be a part of my life as well. Looking forward to cheers with him again. Doesn't matters if we celebrate an anniversary or just "sing out loud"!
Credits:
Martin Konvicka – Guitar, Vocals
Christian Kisler – Guitar, Bass
Tobias Wurscher – Drums, Mix
lyrics: Martin Konvicka / music: diamond seas
Photo: Georg Cizek Graf   
I have known Michael since 2004. I still remember the day we met at Chelsea in Vienna in early 2004 to talk about releasing a record of "United Movement", the band he played drums in back in the days. "United Movement" has been a beast of a band – loud and rough, extensive but danceable. Simply great Noise-Rock. His partner in crime was Peter who then became a very good friend of mine and a temporarily Noise Appeal Records partner. Michael's and Peter's musical way was a twisting one and I am sure I will come back to this later on in this 15th anniversary project.
As I said before, I have known Michael for a very long time and as he is couple of years younger than I am, I could see him getting older and developing his personal life. He is an unbelievable talented person, one of the most creative people I know, and of course, an unbelievably great drummer. A drummer with punch and more important, with groove. He is a great graphic designer. He simply walks his way of choice. Admiration. Full point.
"Songs Of The Night" by Michael Hanisch is the third song (and artist) I want to introduce to you. It will appear on single #2. After having couple of band (-projects) Michael started to strip his musical output to the bone. No drums. No electric-guitars. No bass. No drums. A guitar and his voice. It's been a couple of month since he send me a few songs he recorded alone in his living room – composing, writing and recording all done by himself. We were talking about the songs and I shared my opinion. I liked and loved them all. That's why I asked Michael if he wants to join my label's anniversary project with one of his songs. And luckily, he said yes.
So all of you who are going to subscribe to this project will receive "Songs Of The Night" by Michael Hanisch soon on single #2. "Americana", but without hair grease and brand-fetish. Keep your eyes and ears open, because I am pretty sure that Michael will go public with his very personal songs soon – his own railroad tracks.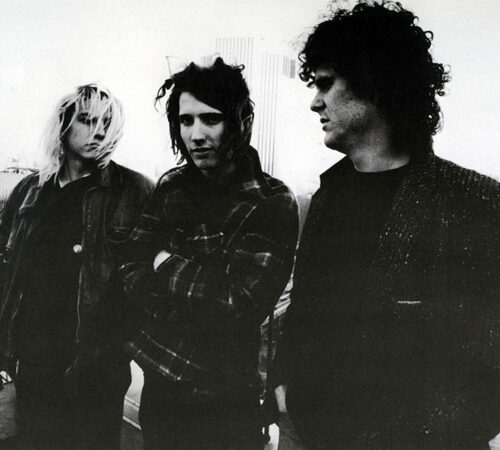 It was 1992 or 1993 when one of my oldest friends Martin played me a song called "Sunshine" for the first time. The band that performed the song was called "HP ZINKER" and listening to them and this song, I knew it would stay with me forever. During the following weeks I started looking for HP ZINKER records and I bought the first one I could find. The album was called "Hovering" and guess what? It was another great song and another great moment, this time called "Das Testament" – 13 minutes and 45 seconds long, a hell of a ride and a monster of a song. And me? I fell in love. In love with "HP ZINKER". In love with "Das Testament". I remember a day when I was walking through my hometown in Styria and suddenly saw poster: "HP ZINKER" live at the "Theatro" in Graz. It was the one and only time I was able to see "HP ZINKER", back in 1994 or 95, during what unfortunately was their last tour I think. In 1995, they broke up.
A quick leap in time. About five years ago, somewhere in 2012 when I started to plan the 10th anniversary of Noise Appeal Records, Hans Platzgumer and I met at the "Cafe Westend" in Vienna. Before that meeting I wrote him to explain my idea for the "HP Zinker 1989-1994 Singles Box" that I would like to release for the 10th anniversary. What happened next, I could have never dreamed. He replied right away and so, we met up. As far as I remember I was quite nervous to meet one of my teenage idols, but honestly? It was just a great talk, a wonderful time during which I was told a couple of funny stories. It truly was one of the most special moments in my life. So, as you know, the Singles Box became reality and to this day, I am still very proud of it and happy that it worked out the way it did.
Another leap in time to another anniversary. Another time "HP ZINKER". Through the course of the last years, since the first time Hans and I spoke, we got in touch every now and then. E-Mails or meetings at one of his readings in Vienna. So it was clear to me that I would be asking him once more if there was some kind of treasure hidden away in his archives, of course regarding HP ZINKER! And well, there was! There have been some not that serious attempts to reunite "HP ZINKE"R in the early 2000s, but as we know now, it didn't quite work out. But one thing is left. A new version of "Warzone City", which we simply called "Warzone City 20k". It will appear on the first 7" of the 15th anniversary singles club and you can't imagine how happy I am and I hope you will be too!
Credits
www.platzgumer.net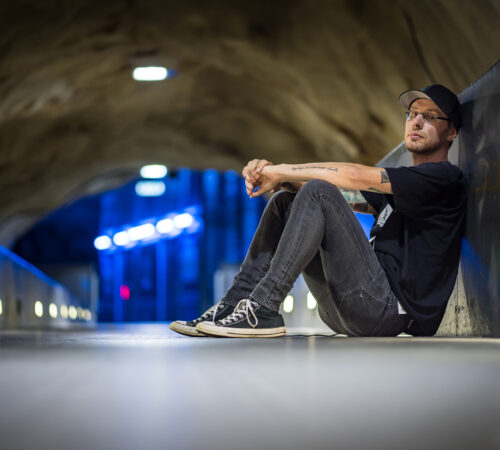 As the first act of the 15th anniversary 7" club, I want to introduce you to a very old friend of the label and myself, to Chris Magerl. I saw him perform live for the very first time in the mid/late 90s in Eggersdorf (Styria). I can't quite remember if he already played with his band "Sick Of Silence" or with his pre-project. But it actually doesn't really matter.
Together we went through the years of Hardcore/Punk in Graz and Styria and I was able to witness how focused Chris was in making music. He had one goal and did everything to reach it. He toured through Europe and the States, recorded and improved his skills on a daily basis and evolved with his band "Sick Of Silence" and became an incredibly unique Hardcore/Punk-four-piece.
When Marion, my partner in crime in the early days of Noise Appeal Records, and I were thinking about a second release, we immediately thought about a new record from "Sick Of Silence", but while we discussed this topic with the band, the band itself split up.
But as active as Chris always has been, he brought his very new project to the table, called Once Tasted Life", an emo band in the vein of "Weakerthans". Together with my friends Gerfried (from the "Plague Mass"), Stevie (whom I played with in "True Illusion") and the former "Sick Of Silence" drummer Felix. And what to say? It pierced right through my heart. That's when we decided to release the first EP of "Once Tasted Life", called "Fallow Fields Of Hope". It got released on June 26th, 2003 and was the second release of Noise Appeal Records. Fun Fact: so far it's still the best sold record ever. We produced a circulation of 1.100 copies and nearly all of them are gone by now. Some few copies are still left, so if you're interested, you are more than welcome to order it and own a piece of our history.
As time passes and friends are coming, staying or leaving, "Once Tasted Life" broke up after a few years, some tours and records. And what did Chris do? He kept moving, as Chris Magerl, and most of the time as a solo-artist. Just him and an acoustic guitar, some times with a band's support. So when I started to work on the project of the 15th anniversary 7"-club, I asked him if he had some never released recordings for me to put on the singles-club. And, luckily, he had. The song is called "The House Always Wins", and the music and the songs' lyrics captured me totally. It is so present and so true. It is – even if the music is a bit more quite – more Punk than most of today's so called punkrock-bands. The message is clear. There's nothing hidden and no sarcastic meaning. Just the truth, right in your face, delivered in a great emotional live-performance, making the sadness of nowadays critical condition of the planet audible in every second. Listening to the song for the first time, I had tears in my eyes and I am sure, so will you.
Chris is going to be one of two artists who will appear on the first 7" of the club. With a live-version of "The House Always Wins", recorded on April 4th, 2017 at the "Sofar Sound Sessions" in Graz. It was by the way the first time ever Chris played this song in front of an audience. So this one is really, really special!
Credits
www.facebook.com/chrismagerlplaysmusic
mchrismagerl.bandcamp.com
Recorded recorded live by rene pettinger, eps records
www.epsrecords.at
Photo by wimair.at
Sign up for the Noise Appeal Records 15th anniversary 7"-club. The subscription is 95,00 Euros excl. postage. We ship four times in 2018. Each pack includes three 7" with silkscreened cover artworks. To sum it up: 12×7", some black, some colored, 24 artists and at least 24 songs. Last shipping will include a download code of all songs. The series is limited to 100 copies.
If you have any questions regarding the 15th anniversary 7"-club or the label itself don't hesitate to contact me: