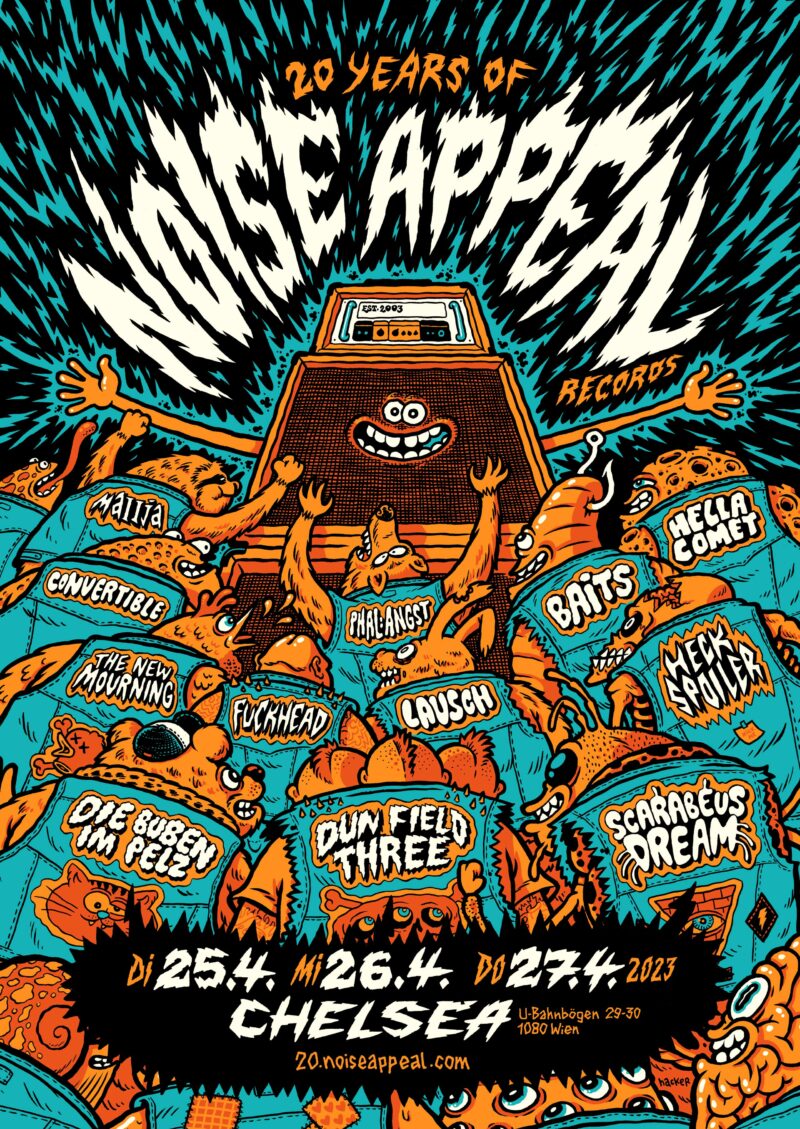 20 JAHRE NOISE APPEAL RECORDS 
Im April 2003 erschien der erste Tonträger – Fresnel »Scenario« – auf Noise Appeal Records und markiert somit auch die Geburtsstunde des Labels.
20 Jahre und 159 Veröffentlichung später feiern wir im April 2023 unser 20 Jähriges bestehen. An drei Tagen werden 12 Bands aus dem NAR-Roster die Bühne des Wiener Chelseas entweihen und damit einen Höhepunkt unseres Jubiläumsjahrs markieren.
Tag 1 – 25.04. 2023
Die Buben im Pelz. Convertible, The New Mourning, MaIIja
Tag 2 – 26.04. 2023
Dun Field Three, Fuckhead, Lausch, Phal:Angst
Tag 3 – 27.04. 2023
Baits, Heckspoiler, Hella Comet, Scarabeusdream
NAR20
Chelsea Wien
Lerchenfelder Gürtel
U-Bahnbögen 29-30
1080 Wien
http://www.chelsea.co.at
SUBSCRIBE TO OUR NEWSLETTER
Get our latest news directly in your inbox.
No worries: we hate spam, just like you do!
Phal:Angst from Vienna have been following their vision of electronic Industrial and analog Post Rock for 16 years now, and they have been doing so consistently, while also joyfully embracing self-development.
The new and already 5th album has been made with even more care and effort. For five months the band and a team consisting of Alexandr Vatagin (Engineer for Kronos Quartett, Pauls Jets, Dives, Electric Indigo), Gerhard Potuznik (GD Luxxe, Mäuse, co-owner of label Angelika Köhlermann, producer of Chicks On Speed), Alexander Lausch (Engineer for Die Buben Im Pelz, Paul Plut, Mynth, The New Mourning) and Tobias Wöhrer (Leyya) was involved in producing, consulting, recording, mixing and mastering.
Remixes were made by Industrial/Dark Ambient icons Brian Williams aka LUSTMORD (Current 93, Nurse With Wound, SPK, Graeme Revell, Terror Against Terror, First Reformed) and JARBOE (The Swans), two musicians who have had a fundamental impact on the band's work.
Orange Baboons – 100% Homeless
Die Steirer veröffentlichten zwischen 1990 und 1996 unzählige Tonträger, unter anderem auf Gash Records und Sacro Egoismo, bis sie dann bei Sony landeten, wo Ihr Major-Label Debüt »100% Homeless« 1995 auf CD erschien. 27 Jahre später schließt sich der Kreis. Am 11.11. 2022 erscheint »100% Homeless« als Doppel-LP auf Noise Appeal Records.
»Klanglich vergleichbar mit »Soundgarden«, »Nirvana« und frühen »Dinosaur Jr. fabrizierten »Orange Baboons« eine Wand aus übler Lautstärke.«
noise100, DoLP, LP1 Black Vinyl, LP2 Orange Vinyl, incl. DL-Code
Dun Field Three – We Came From The Ocean Where Everyone Swallows The Words
Was haben die neue Platte von Dun Field Three und ein Trip aufs offene Meer gemein? Man weiß nie, was als nächstes kommt. Und genau so will man das auch haben. "His Royal Fishness" treibt einen in postpunkig-rockige Gewässer, peitscht einen durch, um dann wieder klar und sanft, fast melancholisch dahinzugleiten. Immer mit einem weirden Gefühl, dass sich unter einem schon der nächste Abgrund auftut. "Supersurprise" heißt also nicht nur der erste Song, bei dieser EP wird man durchgehend surprised. Und das ist super!
noise128, 12″ EP + Downloadcode
Latest News from the Noise Appeal Records Family