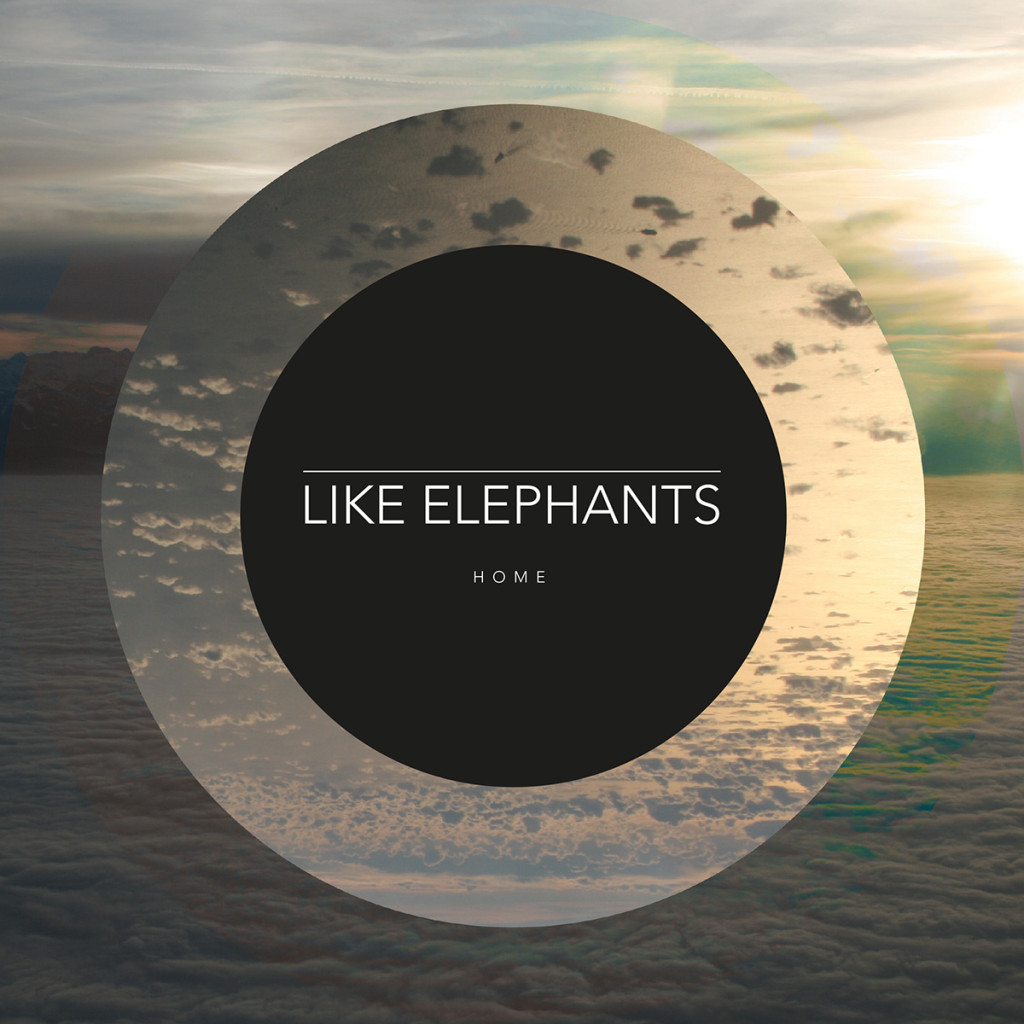 FORMAT
7″

STATUS
available

RUNNINGTIME
12 min. 54 sec.

TRACKLIST
01 Child Of Love
02 Don't Forget To Breathe
03 Festival Sun
04 The Golden Sea

PRESSING INFORMATION
300 made, printed inlay
download code & cd included

RELEASE DATE
08.05. 2015
thoughtswordsaction.com
Today, we're launching ourselves back into 2015, in times when Noise Appeal Records released this gem. As far as I am informed, Home is a debut EP by Like Elephants, an Austrian dream pop band. Of course, the band still releases music, and this particular EP is just one in their impressive discography. After Home EP, Like Elephants also released full-lengths such as Oneironaut, Kaleidoscope, and Better Days. There are many singles and extended plays like Between Dreams And Truth, Video Game, Askja, Coastal Drive, Saltwater, Deepsea Diver, and Lighthouse. As you can see, Like Elephants keep themselves occupied by continuously launching new recordings, but I will stick to the Home EP this time.
Home EP consists of four excellent compositions that will unquestionably appeal to all the fans of dream pop, indie pop, indie rock, and shoegaze. The one thing that makes Like Elephant even more appealing to the listening apparatus is their ability to skillfully merge all these music genres into a colossal slab of pleasant vocal harmonies, catchy chord progressions, vividly hearable basslines, and moderate rhythmic sequences. Also, you'll immediately notice they're not spoiling their sonic maneuvers by incorporating too much studio reverb, echo, and delay into their songs. Sure, these crucial effects for dream pop and shoegaze music are present in the mix, but Like Elephants moderately implement them without ruining all the instrumentations. Therefore, Home EP is perfectly balanced material that will suit even those listeners who're not fans of mentioned music genres.
It's also interesting how this particular material resonates with all the finest properties of dream pop and shoegaze, but it could also pass as indie rock, alternative, or post-punk material. Besides all the sonic acrobatics and movements that meet all the trends in contemporary indie sound, you'll notice a subtle touch of the late eighties to late nineties music scene. These guys incorporated many catchy chord progressions that define every verse, pre-chorus, and chorus. Each composition comes with perfectly assembled harmonies that will instantly become one of your favorites. Of course, these chord progressions, melodies, and ambiances wouldn't sound so ear-appealing without a very precise rhythm section consisting of warm-sounding low-end tones and moderate rhythmic sequences. Like Elephants also paid attention to all the lead vocal harmonies, back vocals, and singalongs, which in this case, play significant roles in shaping such a pleasant, cathartic sound. There are many other reasons why you should check out these guys, and Home EP is such a great overture into their impressive discography. Head to Noise Appeal Records for more information about ordering the Like Elephants vinyl bundle.
flight13
Kommt mit CD der vier Tracks. Im Verschlafenen Österreich ist 2014 etwas ganz großartiges geschehen. Fünf Herren die bereits des längeren auf den Pfaden der Musikwelt umherirrten fanden sich und haben gemeinsam eine Wundervolle 4-Track EP aufgenommen. Melancholischer, Schwermütiger Synthie-Pop im 80er Postpunk Gewand. Eins der schönsten Musikalischen Statements für selbstbestimmtes Denken und Handeln der letzten Monate. Für Fans von Editors, Mary Onettes?
rauschemusik.de
Steigen wir direkt mal in die Bandgeschichte der Österreicher Like Elephants ein. Im Februar 2014 formierten sich die fünf längjährigen Musiker zu Like Elephants. Die klassische Besetzung aus Gesang, Gitarre, Bass und Schlagzeug wird vom Synthesizer komplettiert. Seit Dezember vergangenen Jahres arbeitet die Band mit dem Wiener Label "Noise Appeal Records" zusammen. Die ersten Früchte kann man nun auf "Home" hören. Die EP umfasst vier Songs, die als Vinyl-7″/CD – Bundle erschienen ist.
Die Musik bewegt sich irgendwo zwischen Indie-Pop-Helden der 90er Jahre wie z.B. Readymade und aktuellen Bands wie Motorama. Leicht verträumte Lieder, die besonders gefallen, wenn die Sonne über der Stadt lacht. Dementsprechend finde ich es ziemlich genial, rechtzeitig zum Sommer einen Song mit dem Namen "Festival Sun" zu releasen. Der geht ins Ohr, nervt auch nach mehrmaligem Durchlauf nicht, mausert sich aber zu DEM Ohrwurm auf "Home".
Wäre schön, wenn da noch ein Album nachkommt.
Oberösterreichische Nachrichten
Eigentlich kaum zu glauben, dass die Burschen aus Grieskirchen sind. Wären sie aus Manchester oder Liverpool würde die internationale Musikpresse bereits Purzelbäume vor Begeisterung schlagen." Dieser Einschätzung von Posthof-Chef Gernot Kremser über das Quintett Like Elephants, die im März den zweiten Platz bei "Lautstark! Oberösterreichs größter Musikcontest" errang, muss nach dem Anhören ihres CD-Erstlings "Home" vollinhaltlich zugestimmt werden.
Vier Songs hat die Band um Sänger Viktor Koch auf das jetzt beim Wiener Plattenlabel Noise Appeal Records erschienene Debüt-Minialbum gepackt.Vier Hits sind es geworden, die Fans von New Order, Joy Division und Mercury Rev die Freudentränen in die Augen treiben werden. Insbesondere "Child of Love" und "The Golden Sea" stechen hervor, verbinden elegant treibende Gitarrensounds mit schwelgerischen Synthies und mit ordentlich Hall unterlegter Stimme. Ihr Talent stellen Like Elephants unter anderem am 7.11. beim "Ahoi Pop"-Festival im Posthof als Vorband von Tocotronic unter Beweis.
city-flyer.at
Indie Pop zum Träumen kommt hier aus Oberösterreich. Die erste EP beeindruckt mit positiv stimmigem Klang-Teppich – über den poppige Melancholie und New Wave-Anleihen spazieren. Zu sehen gibt es die Band außerdem auf YouTube: mit ihrem bezaubernden Video zum Song "Child Of Love".
am
musicaustria.at
Anfang 2014 erblickte die oberösterreichische Formation LIKE ELEPHANTS erstmals das Licht der Welt. Das fünfköpfige Gespann rund um VIKTOR KOCH (Vocals, Gitarre) veröffentlicht im Mai seine Debüt-EP "Home" auf dem Wiener Label Noise Appeal Records.
Anders als der Name vermuten lässt, kommt die Band so gar nicht elefantös daher. Der Sound bewegt sich irgendwo zwischen Dream- und Indie-Pop, mit viel Sorglos-Attitüde. Like Elephants setzen auf ein einfaches, aber funktionierendes Konzept: gefühlvoller Gitarrensound, malerische Synthie-Flächen und mit Hall unterlegte Vocals. Mit "Child of Love" als Auftakt weiß man sofort, wohin die Reise auf "Home" gehen wird, nämlich in Richtung "raus aus dem Alltag und die Seele baumeln lassen".
Die Grundstimmung ist vorgegeben. Dennoch ist es Like Elephants gelungen, reichlich Spielraum für Interpretation offenzuhalten – auf inhaltlicher und atmosphärischer Ebene ist fast alles möglich.
Soundtechnisch greifen die Nummern nahtlos ineinander und geben eine EP mit Hand und Fuß ab. Das Ganze endet mit einem Stück Unbeschwertheit, "The Golden Sea".
Mit "Home" liefern Like Elephants vorerst vier solide Tracks zum Grübeln und Treibenlassen – Frühlingsgefühle inklusive. Kommenden Releases sehen wir daher gespannt entgegen.
Die EP erscheint am 8. Mai als Download und als auf 300 Stück limitierte 7-Zoll-Vinyl auf Noise Appeal Records. Der EP-Release findet am 13. Mai 2015 im Wiener Rhiz statt. Weitere Konzerttermine sind Ried (16. Mai), Linz (22. Mai) und Salzburg (30. Mai).
Alexander Schroeder
music-scan.de
Das erste regulär veröffentlichte Lebenszeichen der Band aus Österreich lebt von seiner Atmosphäre und den transportierten Stimmungen. Das ist bei LIKE ELEPHANTS noch mehr der Fall als bei "normalen" Gruppen. Ausrichtungsseitig setzt das Quintett auf sphärischen Indie-Pop, der um Ambient-Elemente und Shoegaze-Einflüsse erweitert wird. Das resultierende Klangbild scheint mal großes Understatement zu sein, dann wider die ganze Welt zu umarmen und mal in einer raumgreifenden Traurigkeit zu versinken. Für lediglich vier Tracks ist das eine beachtenswerte Spannbreite. ,Don't Forget To Breathe' geben die Musiker ihren Hörern mit auf den Weg. Aufgrund der halligen, breiten Anlage des Materials ist von einem deutungsoffenen Stil zu sprechen, für dessen Wirkung die Assoziationen der Hörer mit von Bedeutung sind. Abhängig von der eigenen Gefühls- und Stimmungslage können die Songs von LIKE ELEPHANTS entweder positiv bestärken und zu Zuversicht führen. Oder sie wirken als Downer, wenn man die traurigen Facetten und das entrückte Moment des Spiels der Österreicher als bestimmend wahrnimmt. Möglich ist beides. Auch das lässt "Home" zu einem gelungenen Einstand werden. Der Single kann das Quintett gerne bald schon einen Longplayer folgen lassen. (Arne, 7/10)
Planet.tt Magazin April 2015
Noise Appeal ist eines der interessanteren Labels Österreichs und steht relativ scheuklappenbefreit für Indie genauso wie für Noise-Rock und Avantgarde. Von der blutjungen oberösterreichischen Band Like Elephants veröffentlichen sie nun eine 7″-Vinyl mit Download-Code und CD-Beilage. Die Band spielt verträumten Indie-Pop, welcher durch ein großzügiges Hallmeer im Sound an Dream Pop Produktionen der letzten Jahre und New Wave/Post-Punk a la New Order erinnert. Lebensbejahende Songs geben dunklen, melancholischen Stücken stimmig die Klinke in die Hand.
Vice Alps
Ich hab mir die EP von Like Elefants zusammen mit Besuch angehört. Wir sind uns einfach nicht einig geworden. Für mich: Alle vier Tracks irgendwie OK. Weder super noch schrecklich. Irgendwas in Richtung Indie mit relativ geringen Unterschieden zwischen den Songs. Wirkt irgendwie zu sehr so, als sei das alles schon x-mal dagewesen. Ganz anders bei meinem Besuch: der hat die komplette EP gefeiert. Das kann am Wein liegen. Oder an Like Elephants. Sagen wir an Like Elephants.
6/THE GOLDEN SEABEAR
Substance Is Meaningless
Like Elephants make hazy dream pop for a sleepy mystical ride through the conclaves of your own mind. Their debut EP "Home" consists of four tracks which exhibit both the exuberance and joy of life as well as the melancholic afterglow of a summer's evening as the embers of a campfire slowly start to fade and the cold sets in.
Influenced by new wave and post punk bands of the 80's, Like Elephants attempt to put listeners in a trance with their shoe gaze sound. "Don't forget to breathe" is beautifully atmospheric as it reminds us of the possibilities we have at our fingertips, criticizing our dependence on technology and the media of the modern society. If there is such a thing as dream pop perfection, the "Child of Love" could well be it. It is rare to find four tracks of such consistently good quality on a debut EP, but Like Elephants have managed it. Expect to hear this played a lot in 2015. "Home" will be released on the 8th of May on Noise Appeal with 300 copies available.
Walzerkoenig
Upper Austrians, you've got to be kidding me. How do you do it. Is every single Upper Austrian in a band? And don't you have any properly embarrassing bands at all? What is your secret? Is it all those Kulturvereine you've got?
Like Elephants add a new Joy Divisionesque facet to the indie-dominated sound of their Bundesland, using lots of reverb and what we like to call the Ja, Panik beat (chk, double chk). We totally approve.
Like Elephants are presenting their EP on 13 May at Rhiz in Vienna and before that, they're playing at VIenna's Fluc on 10 March.