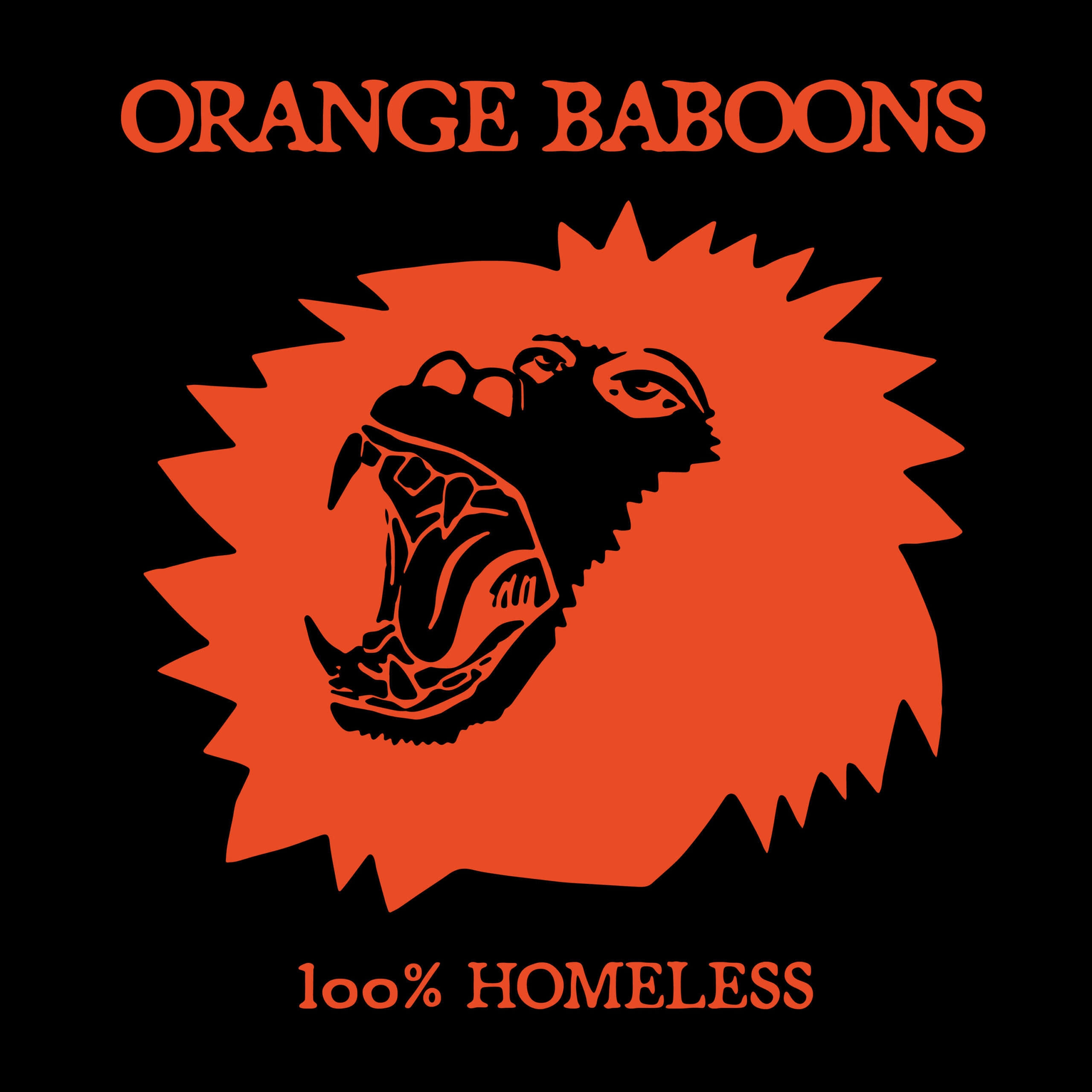 FORMAT
noise100,
History Series #003,
2xLP
STATUS
available
RUNNINGTIME
68 min. 27 sec.
TRACKLIST LP
A1 Tell me how
A2 Planet
A3 Little Sister
A4 Lorelei
B1 Cold Turkey
B2 Smiles
B3 Love
B4 Colours
C1 Goosebumps
C2 Fisch
C3 100% Homeless
C4 Sandman Song
D1 Leben
D2 Wer zum Teufel
D3 Jesus
D4 Fühl dich groß
D5 Out a Space
PRESSING INFORMATION
200 copies, incl. DL, colored vinyl, printed innersleeves, side D incl. 5 unreleased demo-tracks
RELEASE DATE
11.11. 2022
Der Vergessenheit entrissen: Das Album "100% Homeless" der Orange Baboons
Kernöl und Lee Hazlewood, Grunge und Köflach – und wie das alles irgendwie zusammenhängt
Das seinerzeit unter Wert geschlagenen "100% Homeless" der Orange Baboons wurde nun erstmals auf Vinyl neu aufgelegt.
Im weitläufigen Universum des Singer-Songwriters und widerwilligen Popstars Lee Hazlewood findet sich ein obskurer Eintrag aus der Steiermark. Im fernen Jahr 1990 kam es, dass eine bis dahin nicht auffällig gewordene Band namens Orange Baboons daran ging, Lee Hazlewood zu covern. Das war an sich nicht neu, Hunderte hatten das getan. Doch die Baboons coverten nicht bloß ein Lied, nein, das komplette Album Love and other Crimes nahmen sie sich vor und auf.
Fünf Jahre später war die Welt eine andere, selbst in den vereinigten Bundesländern von Austria war registriert worden, dass wilde, lärmige Stromgitarrenmusik angesagt war – und die Orange Baboons wurden Labelkollegen von Bob Dylan – in der Tat.
Kermit der Frosch mit Knarre
Die Band um Matthias Eberhart wurde in der Goldgräberstimmung des Post-Grunge vom Major Columbia unter Vertrag genommen. 1995 erschein dort das dritte und finale Album der Baboons, 100% Homeless.
Der internationale Durchbruch ging sich knapp nicht aus, die Band war zwar toll, aber die Welt nicht bereit für kernigen und öligen Rock. Das Werk erschien zeitgeistig als CD mit einer jungen Frau auf dem Cover, die in einem Mantel der Farbe Kermit der Frosch eine Flinte im Anschlag hält. Das famose heimische Label Noise Appeal Records hat dieses Werk nun der Vergessenheit entrissen, mit neuem Cover versehen und erstmals im Format eines Doppelalbums veröffentlicht – in orangem Vinyl, wie es sich für Orange Baboons gehört.
Der forsche Riff-Rock mit Gespür für Melodien und Dynamik ist gut gealtert. Wenn man bedenkt, dass Nickelback mit weit weniger weit weiter gekommen sind, möchte man weit weinen. Aber die Welt, das ist bekannt, ist ungerecht. Etwas Wiedergutmachung bringt diese Neuauflage. (Karl Fluch, 20.2.2023)
Es gab ein Leben vor dem Haubentaucher. Graz war damals in den 1980ern und 1990ern ziemlich düster und grau, ehe eine wilde Horde von orangen Pavianen die Stadt und das Umland aufmischte. Die Orange Baboons rund um Matthias "Hias" Eberhart, Wolfgang "Huawa" Huber und Martin "Eisi" Eisenberger wurden bald zur Kult-Band. Bereits die Coverversionen von Lee Hazlewood und Nancy Sinatra auf der ersten Platte machten die Baboons national wie international bekannt. Der große John Peel liebte sie heiß und innig – wenn die Legende stimmt, stellte er sie einst in England dem Live-Publikum als "Band from Czechoslovakia" vor. Begründung: "Klingt interessanter". Überhaupt waren die Live-Qualitäten außerordentlich. Der Autor erinnert sich unter anderem fragmentarisch an einen grandiosen Auftritt in einem schummrigen Wirtshaus in Bärnbach. Die erste und einzige Platte auf einem Major-Label war dann "100% Homeless" aus dem Jahr 1995. Zwei Jahre später war es dann auch schon wieder aus mit dem Spaß.
Noise Appeal legt die Scheibe nun neu auf und Überraschung: Der Grunge-Style funktioniert auch mehr als ein Vierteljahrhundert später noch immer – auf manchen Songs, nicht unbedingt auf allen im selben Ausmaß. Aber in Summe: "Gschissn geil", wie eine Userin auf Youtube in herzerfrischender Offenheit schrieb. Die steirische Indie-Partie war mit ihrem fetten Sound wirklich in einer Liga mit den Leuten aus Seattle, die heute 16-Jährige nach wie vor feiern (oder zumindest: deren Shirts sie tragen).
Die limitierte Doppel-LP enthält außerdem eine ganze Seite mit bisher unveröffentlichten Demo-Aufnahmen – mit deutschen Lyrics und in einem Stil, der so gar nicht zum gewohnten Baboons-Sound passen will. Soll heißen: Ein echtes Sammlerstück liegt hier vor, das auch der jungen Generation viel Freude machen wird. Das mit den Shirts kann ja noch werden…
Even after being a thing since the mid-eighties, the grunge movement truly made an impact around the globe in the early nineties when Nirvana released Nevermind. Alongside releases by Pearl Jam, Alice In Chains, Soundgarden, Smashing Pumpkins, TAD, Green River, and many more, it paved the way for many bands that performed or still perform some sort of grunge music. Orange Baboons were the band that appeared during those years, releasing Love And Other Crimes LP, Black Bullet Center LP, Skinny Dipping MCD, and Don Espanol CD EP. All these records were well-received and critically acclaimed by the crowd and music critics. Still, their final album, 100% Homeless, reached much greater success than their previous works due to their signing with Sony Records. Of course, Orange Baboons became experienced musicians after many years of rehearsing, recording, playing live shows, and touring, so their songs became more complex over the years.
This Noise Appeal Records vinyl record-only reissue of this epic album maybe come as a surprise to some, but it was more than a logical move. After all, this prolific record label reissued some of the best releases by many Austrian artists/bands, and 100% Homeless unquestionably deserves the same treatment. This first-time double vinyl edition includes an entirely new artwork consisting of the baboon stencil art on the front and a wondrously designed circular tracklist on the back. However, the true beauty of this release lies inside. You'll immediately notice painted reproductions of the original photos done by Maria Bierbaum and Claudia Shurzinger Herzog. Of course, the other sides of the inner sleeves carry original photos, lyrics, and all the necessary information about the album. It's also good to mention that this double vinyl release comes in orange and standard black variants.
If these guys were from Seattle instead of Graz, they would definitely reach the same success as the greats of the grunge scene. Their compositions could easily stand among some of the greatest hits released in that particular era because of the ideas invested into this material. Each composition bursts with many clever sonic maneuvers, and precise performance enhances it on an entirely new level. If you never heard this album before, you'll be blown away by the fact of how good these songs are and how every one of them sounds fresh even 27 years after the initial release. It's a diverse material separated into abrasive, raw, heavy bangers and much calmer alter-rock tracks. Therefore, 100% Homeless carries something for everyone, and this double album will appeal to your ears even if you're not into grunge at all. The riffs and chord progressions are tight, and warm-sounding basslines contribute to the heavy ambiance, while the enormously energetic rhythmic sequences dictate the tempo and dynamics of these songs. You should check it out if you crave some powerful 90s rock music. Head to Noise Appeal Records for more information about ordering.