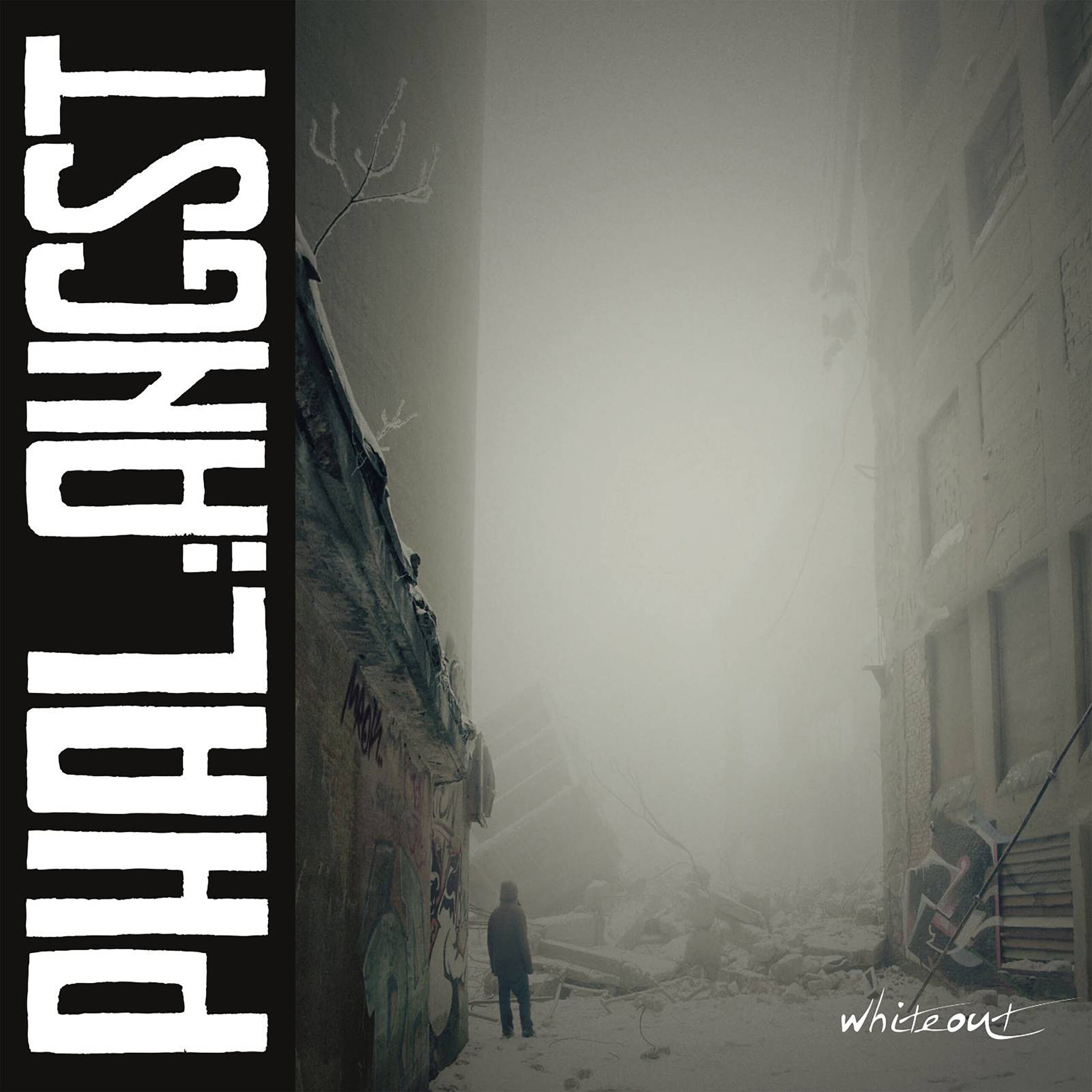 FORMAT
noise143, CD
noise144, MC
STATUS
available
RUNNINGTIME
65 min. 49 sec.
TRACKLIST CD
01 Whiteout
02 Severance
03 Least Said, Soonest Mended
04 What Rests Mute In Bright Corners
05 Unhinged
06 What A Time To Be Alive
07 Unhinged (Remix)
08 A Tale Of Severance (Remix)
PRESSING INFORMATION
500 copies CD, 6-pages-digipak
TRACKLIST MC
A1 Whiteout
A2 Severance
A3 Least Said, Soonest Mended
A4 What Rests Mute In Bright Corners
B1 Unhinged
B2 What A Time To Be Alive
B3 Unhinged (Remix)
B4 A Tale Of Severance (Remix)
PRESSING INFORMATION
100 copies MC, cardboard box, DL code included
RELEASE DATE
13.01. 2023
I am already a chronic daydreamer, but I can't recall an album so powerfully inducing waking unconsciousness as Whiteout. This isn't because it causes the listener to tune out. Rather, its immersiveness is so intense that they'll find themselves dead to the world midway through the first track. This is the fifth full-length from the Viennese four-piece, with a slew of other musicians in tow, and it largely follows in their signature trajectory of post-metal meets dark ambient. However, perhaps more so than before, Phal: Angst emphasize the cinematic with long, subtly evolving pieces of deceptive simplicity. The result is a shifting dreamlike musical canvas, whose sixty-five-minute stretch is far too well-constructed to be offensively long. Music of this caliber can often fade away quickly into unmemorability if it's too anodyne, but Phal: Angst stay just on the right side of this line.
Whiteout's main power is how emotionally affecting it manages to be with apparently little at its disposal. The album is mostly instrumental, the rasping near-whisper snarls often waiting until near halfway through tracks to make an appearance When they do, their comprehensibility only increases the intensity they gain from their sparseness, repeating and reverberating over synths. Scattered, distorted samples add further, strange voices to the soundscape, deepening the immersion and increasing the oddly thoughtful atmosphere. One such sample takes from a performance of Macbeth's dying soliloquy ("Severance").1 It accentuates the music's already dark and melancholic tone, particularly when it resurges with greater prominence on the closing Jarboe remix "A Tale of Severance." That these feature the most memorable guitar melody doesn't hurt either. The prevailing sensibility of the record is this downcast mournfulness, punctuated by waves of restless ennui achieved through hypnotically repeating waves of synth, chiming metallophone, and subtle fuzz. It enters instantly through the wistful piano that opens "Whiteout," rises through the sweetly sad, syrupy tremolo in "Least Said, Soonest Mended," and the wash of gothic synthwave and pleading rasps at the apex of "What a Time to be Alive."
It is with these affecting melodies and hazy atmospheres that Phal: Angst cast a heavy mood with subtle beauty. Passages that are largely synth-driven, with guitar notes shimmery and distorted, feel weighty, even though they are not 'heavy' in the metal sense. With long sections of more subdued brooding ("Unhinged") or feedback-blistered repetition ("What Rests Mute in Bright Corners," "What a Time…") the group infuse a bleakness that's nonetheless quite alluring. This also makes the passages of melodic exploration that creep up out of each track more effective, like the soaring of a bird against the dark grey skies that the music generally evokes. By keeping those melodies simple, by emphasizing atmosphere, "Severance" can entrance, and "Least Said…"'s melancholic refrain can mesmerize. On the reverse end—relatively—"What a Time…"'s more progressive flow through electronic, sample, and post-metal shades is immersive because of how it manages to maintain the same, dour feeling of recurrence throughout its flow.
There are some small hitches to the experience, however. While they have grown on me, the flatly-delivered cleans that grace the back half of "Unhinged" are a little grating. This is particularly so when contrasted with the genuinely lovely post-metal dream pop singing of "Least Said…" Moreover, some of the more monotonous sections threaten to break the immersion that the album overall creates, which would probably be mitigated by just a little cutting. The inclusion of two remix tracks might seem the most obvious candidate if one were to start trimming, but personally, I'd leave them in because each amplifies and interprets the mood of the original in satisfying ways. "A Tale of Severance" is especially potent, not least because of how it emphatically closes the album with the echoing words of Macbeth and the whispered "so long…" Taken together, the minor gripes still don't do much to lessen Whiteout's ability to envelop, because the whole kind of washes together dreamily.
It's possible I picked this up at the perfect time, the synthy, moody soundscapes a fitting accompaniment to the grey January days. But it's definitely not only that. Whiteout is a brilliant example of understatement done right, and its magnetic envelopment is real. There are certainly worse ways to lose an hour in hazy daydreaming.
Last album 'Phase IV' from this Viennese based project really seemed to speak to me with its mixture of post rock and industrial rooted numbers. They were all of a lengthy running time and sprawled like soundscapes over wide vistas. So, with a new album turning up and some interesting choices of remixers included I was keen to dip in and see if 'Whiteout' was going to have a similar effect.
The ruined world of the cover art and sombre piano tone that opens proceedings over the title track bode well and I am set up for a bleak and cold post-apocalyptic journey, one that had me considering Cormac McCarthy's The Road on last venture. There's a weary trudge about this lightened by eventual shimmering guitar lines and vocals that are more harsh whispers in the background. Suddenly it bursts into life and gives that industrial edge which has a more recent Nine Inch Nails vibe about it. Over repeated listens however I have found this section of the album to be the most abrasive part of it and industrial elements on the whole here have been replaced by much subtler electronica. There's a cool arid desert kind of post-punk twang residing on 'Severance' and melody sounding like its enforced by xylophone is strong as it draws you in over slow beat. For some reason as the track develops and shortly before the rasping vocals join in it sounds like a beeping noise, a bit like a reversing lorry would make is thrown in the mix. Its right low but it really intrudes through whatever sonic sorcery is used in my right ear and I cannot shift it out making any attempt to like the song afterwards. If it is a mixing mistake, it should have been filtered out, if not it's a terrible idea; song ruined and skip button necessary breaking up the flow of the album.
The post rock staple of sampled voice over calm musical flow is trotted out over 'Least Said, Soonest Mended', it works well as does the electronic sounding drum beat and chanted vocals. The guitars float and drift and it is a gentle floating mood inducing number. That xylophone really is the secret weapon here again. And so our journey continues with many of the same motifs utilised into new forms via twanging guitars, slow bouncing beats and a hazy drift of languid motion. This is more enjoyable I have found as background music than anything of major substance. Vocals seem incidental through the most part, we get spoken word parts at times, some in what sound like Germanic adding intrigue and on 'Unhinged' a clean airy chanted passage that for some reason has me thinking of Leftfield as much as anything else. Final track 'What A Time To Be Alive' is a lengthy slow shoegazing denouement but if there is a tale to the narrative here to be interpreted, I am afraid I lost it quite some time ago.
As mentioned, there are remixes of two numbers one by Lustmord and the other by Jarboe. I would love to say they add to the originals, perhaps they actually take away from them if anything. Apart from the fact Lustmord dubs up 'Unhinged' there is nothing really that sticks out and they strike as superfluous to an already fairly long and repetitive album.
Obviously, this didn't have quite the same impact as its predecessor for me which is a shame. Still its certainly not without merit and I'm sure others will find themselves really enjoying this mesmerising cinematic listening experience. (6.5/10 Pete Woods)
A highly anticipated brand-new release by Austrian industrial/post-rock quartet Phal:Angst is coming out on CD, and streaming services on January 13th via Noise Appeal Records. So far, the band unleashed a title track and A Tale Of Severance, remixed by legendary Jarboe. The band and label promoted and still heavily promote these tracks on social media, so there's no way you missed it out if you're following their pages. Phal:Angst assembled this material in five months, which may seem like plenty of time, but whoever touched the base of experimental, avant-garde, industrial, and post-rock music knows that could be a challenging task. Thankfully, Phal:Angst consists of experienced musicians active on the Austrian scene for decades, so I had no doubts Whiteout would sound good.
For this particular album, Phal:Angst decided to go a route they paved with Phase IV, their previous double vinyl album. However, Whiteout seems far more complex, with many layers of various orchestrations implemented for a much better listening experience. Some readers might think that's not a good idea, but Phal:Angst know what they're doing. Each composition comes with a comprehensive collection of soothing melodies, harmonies, themes, chord progressions, and riffs, delicately assembled to satisfy even the pickiest fans of the genre. The group aimed for a cathartic downtempo ambiance, so these numbers burst with those profoundly complex half-time rhythmic sequences decorated with many accentuations, enhancements, and other details that define only the best industrial, post-rock, and ambient releases.
The keys and synths undoubtedly play a significant role on Whiteout. You'll notice how Phal:Angst achieved that calmy, easy-listening, ear-appealing atmosphere by stacking ambient and drone samples, segments, melodies, and harmonies. The whispery vocal parts perfectly match these tracks, and each singing segment comes like a cherry on top. However, it seems that Phal:Angst aimed for a more instrumental experience, so you'll find vocal lines here and there. Speaking of genres, Whiteout might seem like another industrial-infused post-rock album, but there's more than meets the eye. You'll notice many other elements lurking in these songs, and ambient, drone, cinematic, goth rock, synth, and downtempo electronic music are some of the defining ones. Perhaps Phal: Angst almost primarily focuses on industrial and post-rock, but these other ingredients also define the sonic direction of these compositions in one way or another.
Phal:Angst completely nailed with this one in my book, and Whiteout will be such a perfect overture for 2023. It will suit your ears whether you're a fan of industrial post-rock music or not because it carries many beautiful moments where classification in genres doesn't matter at all. If this is not enough to convince you of the sheer beauty of Whiteout, remember there are Lustmord and Jarboe remixes included, but this album would sound good without those remixes too. Whiteout is available for pre-order at Noise Appeal Records, so grab this gem immediately.
Schon mit "Material Hearts" der Danziger Band Spoiwo ist im Jahre 2021 auf BetreutesProggen.de ein Album besprochen worden, auf welchem eine Post-Rock-Band mit Industrial-Sounds experimentierte. Die Wiener Formation Phal:Angst geht allerdings noch einen Schritt weiter, denn was auf "Whiteout" zu hören ist, kann nur als Industrial Post Rock beschrieben werden. Denn das mittlerweile fünfte Album der Österreicher wird von kalt-dystopischen Elektronik-Beats (angst) und rhythmischem Bassspiel (:) dominiert, denen Gitarrist al sphärisch-melodischen Post Rock gegenüberstellt.
Hinzu gesellt sich die entrückte Stimme phs, die aus einem dunklen Äther zu stammen scheint und vereinzelt ins Kehlige übergeht. Der Härtegrad der Stücke variiert dabei zwischen sanft-zerbrechlich ('What Rest Mute In Bright Corners') und schroff-metallisch ('Unhinged'). So erschaffen die vier Künstler ein harmonisch-melancholisches Klangbild, welchem zusätzlich Klänge von verträumten Synthies, Piano, Xylophon und Harfe beigemischt werden. Das trotz seiner vielen musikalischen Farben am Ende aber trotzdem ein Gemälde in Schwarz- und Weiß-Tönen ist.
Neben den sechs regulären Stücken beinhaltet 'Whiteout' auch zwei Remixe, für die der Waliser Brian Williams, besser bekannt als Lustmord, sowie Ex-Swans-Sängerin Jarboe als Kooperationspartner gewonnen werden konnten. Zwei Künstler, von denen Phal:Angst sagen, dass sie fundamentalen Einfluss auf ihr eigenes Werk gehabt haben. Vor allem Lustmords Version von 'Unhinged' ist dabei erwähnenswert. Diese hat nur noch sehr wenig mit dem Original gemeinsam, da Brian Williams lediglich die Grundstrukturen des Ursprungstückes übernommen und auf diesen sein ganz eigenes, klaustropobisches Werk aus Drones und Dub-Beats erschaffen hat.
Alles in allem: Ein interessantes Werk einer Band mit eigener musikalischer Nische. (FLOHFISH, 10/15 Punkten)
PHAL:ANGST aus Wien verfolgen seit 16 Jahren mit Konsequenz und Lust am Sich-Weiterentwickeln ihre Vision von elektronischem Industrial und analogem Post-Rock. "Whiteout" ist das fünfte Album des Vierers, der über fünf Monate mit einem umfangreichen Team an der Platte geschraubt hat. Ursprünglich kommt die Band aus der DIY-/Hardcore-/Punk-Szene der späten 90er und frühen 2000er und mögen sie sich auch stilistisch in eine andere Richtung entwickelt haben, so behalten sie doch immer noch gern alle Fäden in der Hand und zugleich ist bei PHAL:ANGST nach wie vor auch alles politscher Natur. Neu ist allerdings, dass nicht auf dem eigenen Label, sondern gemeinsam mit den alten Freunden von Noise Appeal Records veröffentlicht wird.
Und was gibt es konkret auf die Ohren? Nun, auf jeden Fall keine Songs im klassischen Sinne, sondern zähflüssige, kinematographische Soundepen, die sich durch unterschiedliche Stimmungen mäandern. Oft sind diese dystopisch und melancholisch, tragen aber durchaus auch jede Menge Harmonie und Romantik in sich. Waren in der Vergangenheit bei PHAL:ANGST verzerrte Gewaltausbrüche an der musikalischen Tagesordnung, gibt es dieser Tage halldurchtränkten Southern Gothic, zarte Dub-Ansätze, repetitive Sprachsamples und ein wohlklingendes Metallophon zu stampfenden Beats in Slow-Motion zu hören.
"Whiteout" ist der Soundtrack zu einem Kopfkino, das aus Dunkelheit und Tagträumerei besteht. So besetzen PHAL:ANGST mit ihrer Musik, die durchaus Geduld und Aufmerksamkeit erfordert, sich dann aber um so nachhaltiger in den Gehörgängen und im Hirn festsetzt, eine düstere Nische zwischen MOGWAI, NINE INCH NAILS und GODSPEED YOU! BLACK EMPEROR.
This group is from Austria and the album will be released on January 13, 2023. A really calm and odd introduction with instruments or a sound that I'm not used to, it breaks loose. Or breaking loose is probably exaggerated maybe but it becomes music that we can maybe more derive from some kind of music that we can call rock. I insert my CDs into binders by style of music and I have some binders that I call Oddities vol 1….and this disc gets a place in that binder. It's pretty good sounding music but there's not a lot of singing and I appreciate that less than music with vocals. There's a bit of talk here and there in the background and that's probably the closest we can get to singing almost. There's singing sometimes way back in the soundpicture and then there's pretty nice music. Hard to compare to any other band and it may not be possible but if you like music that is different, this group is for you… Clearly! 29/12-2022 (****)
Να μια πρώτη αξιόλογη κυκλοφορία για τις πρώτες μέρες του 2023 που μαντεύω πως θα βρεθεί στα αγαπημένα της χρονιάς που μόλις μπήκε. Αυτοί οι Αυστριακοί (εδώ στο 5ο τους album) μένουν σταθεροί σε ένα blend από Post Rock, Dark Ambient, Dark Americana και εντελώς κινηματογραφικά soundscapes για τις πιο σκοτεινές ώρες . Έχει και remixes από Lustmord και την θεά Jarboe. Απόλυτα εθιστικό και στο repeat. (8/10)
4NDREAS.Postrock Blog
Das neue Phal:Angst-Album "Whiteout" ist womöglich etwas eingängiger als die Vorgänger, was aber nicht mit beliebig oder Popmusik gleichzusetzen ist. Dunkle, zähe, langsame Songs ziehen den Zuhörer weiterhin in ihren Bann, Samples bedrücken und faszinieren. Mit ruhigen Klavierklängen beginnt das Titelstück, Tremolo-Picking-Gitarren-Töne gesellen sich hinzu, bevor zum ersten Mal die für Phal:Angst typische Flüsterstimme zu hören ist. Zu gegebener Zeit wird schließlich der Verzerrer angeworfen. "Severance" gefällt mit einer verspielten Gitarrenmelodie und zum Kopfnicken verleitender Elektronik. Ähnlich "Least Said, Soonest Mended", hier legt die Elektronik noch einen drauf. "What Rests Mute In Bright Corners" bedrückt v. a. aufgrund des verwendeten Samples. "Unhinged" ist ein sich treiben lassender Slow-Industrial/Electro-Track, eingerahmt in ein wie ein Motor wirkendes E-Gitarren-In- bzw. Outro. "What A Time To Be Alive" schließlich vereinnahmt mit einem Sog-gleichen Sound und einem nicht auszublendenden Sample, am Ende heißt es immer wieder "So also ist das Sterben". Zwei hörenswerte Remixe beleuchten schließlich "Unhinged" bzw. "Severance" noch einmal von einer anderen Seite. Insgesamt ein eindrucksvolles, ein großartiges Album. Meine Favoriten: "Unhinged" und "What A Time To Be Alive".
I Phal:Angst sono un quartetto viennese forse erroneamente etichettato come semplice post-rock. La musica che i Nostri ci propongono con questo Whiteout è trasversale, lambendo in più di un'occasione territori cari all'industrial, al dark ambient, all'elettronica, al black metal e al drone, il tutto racchiuso da una cornice cinematografica, da colonna sonora quasi. E le scene che gli otto pezzi contenuti in questo album ci trasmettono sono quelle post-apocalittiche di città abbandonate, grigie, magari coperte dalla neve o avvolte dalla nebbia, con alti palazzi diroccati, strade distrutte e auto sparpagliate qui e là, a punteggiare un deserto dove una volta c'era presenza umana.
I candidi tocchi di pianoforte che aprono la title-track sono come lievi gocce di pioggia che pian piano si intensificano fino a sfociare in una tempesta abrasiva nella quale scream e chitarre zanzarose e taglienti sferzano come un freddo vento. Ma le atmosfere sono già ampiamente tratteggiate, e quando la desolata "Severance" fa il suo ingresso con le sue pulsazioni notturne, la sua chitarra limpida e i suoi synth glaciali sappiamo già che il nostro viaggio in questa terra messa in musica dai Phal:Angst non sarà dei più felici (ma ve lo anticipiamo assolutamente piacevole per chi ama queste sonorità). La terza traccia, "Least Said, Soonest Mended", introduce un'altra peculiarità della ricetta dei Nostri, ossia l'inserimento di intermezzi vocali tratti dalle più disparate fonti a ulteriore supporto della cinematicità di Whiteout, elemento questo che comparirà anche nei successivi brani. Al tempo stesso le atmosfere si fanno via via più impalpabili e rarefatte, con un alone molto caro al buon Jesu, salvo poi incupirsi di botto e far piombare l'ascoltatore nell'inferno industrial più oscuro e opprimente con "Unhinged", pezzo notturno, intenso, ipnotico e degno del più tormentato incubo trip hop. "What A Time To Be Alive" è la culminazione di tutti questi crescendo emotivi e delle alternanze pieno-vuoto che hanno caratterizzato finora il disco; un pezzo complesso, articolato, che partendo da impulsi minimali arricchisce minuto dopo minuto la sua proposta con inserti synth, cupe stratificazioni e battiti, inserti vocali, uno scream lontano freddo e ferale, fino a collassare in un vortice di rumore distorto e fragoroso, ma dal palpabile sentore nostalgico e malinconico. Lustmord e Jarboe regalano agli ascoltatori di Whiteout due cover di assoluto fascino: una cupa rilettura in chiave dark ambient di "Unhinged" e una versione riveduta, corretta e arricchita di "Severance" chiamata "A Tale of Severance", forse meno asfissiante dell'originale ma non meno efficace in termini di impatto finale.
Album nebbioso, impalpabile e allo stesso tempo pressante, minaccioso e ipnotico, il nuovo lavoro dei Phal:Angst si configura come un'opera interessante in grado di tenere salda l'attenzione dell'ascoltatore dall'inizio alla fine. Il suo elevato tasso cinematico le dona una presa immediata sull'ascoltatore, il quale nota dopo nota si trova catapultato nell'atmosfera dimessa e apocalittica ben rappresentata dalla copertina. Non si tratta di un ascolto semplice, ma di sicuro saprà dare molte soddisfazioni a chi vorrà approcciarsi al mondo decadente descritto da quartetto viennese. (Di Federico Botti, 7,5)
Und um den Hang zur Disharmoniesucht hier auf die Spitze zu treiben, gibt es Neues von Phal:Angst. Für Außenstehende: seit beinahe zwei Jahrzehnten schon zerdeppert das Quartett aus Wien mit industrieller Lust handelsübliche Metriken und kreiert damit musikalische Schwelbrände, für die das Wort Post-Rock mal erfunden wurde, um zu sagen: so wie bislang geht's nicht weiter, also machen wir alles wie vorher, nur ein wenig krasser, rauer, dystopischer.
Und so klingt denn auch das neue, fünfte Album Whiteout ein bisschen wie Western-Noise aus dem elektroanalogen Folterkeller. Hier mal vereinzelte Gitarren-Pics, dort flächige Breitseiten, beides zusammen einstürzendeneubautenartiger Retrofuturismus mit seltenem Flüstergesang, der nur durch eine Hintertür erahnen lässt, dass die Vorgänger Phal und Projekt Angst der österreichischen Hardcore/DIY/Punkrock-Ecke entstammen, dann aber mit Nachdruck.
Die Wiener Partie aus der Punk/DIY/Hardcore Szene gibt es so quasi seit 16 Jahren. Musikalisch hat man sich in Richtung Industrial und Post-Rock vorgewagt. Hinter den Kulissen werkelte ein Team von Leuten wie Alexandr Vatagin (Pauls Jets u.a.), Gerhard Potuznik (die Mäuse!), Alexander Lausch (Mynth) und Tobias Wöhrer (Leyya) fast ein halbes Jahr an den acht Songs. Die Band versteht sich auch explizit als politisch, gemeint: links. Und sie fordert von ihrem Publikum Aufmerksamkeit. Da ist nichts mit "nebenbei". Phal:Angst ist vordergründig, mischt Gothic mit Noise, Dub-Samples mit Post-Punk. Wie sagte Paul Poet so schön über die Band: "Grindverklebte Wohlklangdepeschen aus dem Daseinsmorast." Klescht ordentlich, auch ohne Raketen.
The Gap #196
Wenn die Düsterheit in mehrfacher Wortbedeutung draußen omnipräsent ist, holt man sie sich am besten auch noch mit rein, um nicht permanent anstrengenden Stimmungswechseln ausgesetzt zu sein. So kommt die neue Platte von Phal:Angst gerade zur richtigen Zeit. »Whiteout« ist ein Album, für das man sich Zeit nehmen darf.
Die acht Nummern ziehen sich gut in die Länge und überwinden teilweise den Aufbau klassischer Songstrukturen. Die Gitarrenflächen sind einnehmend, die Einspieler von Vocal-Samples machen neugierig und auch dass der Schreigesang teils etwas im Hintergrund bleibt, tut der Qualität keinen Abbruch. Es stellt sich einzig die Frage, wie der Release wohl klingen würde, hätte man die Drums sorgfältiger platziert (oder ganz weggelassen). Diese wirken wegen ihres lauten, präsenten Mixes in fast jedem der Original tracks draufgepflastert und stören stellenweise. Dabei hätten es die enthaltenen Remixes so gut vorgemacht. 16 Jahre und jetzt eben fünf Alben besteht das Quartett schon, in Bandjahren also zwei bis drei Leben – vor allem wenn die Rede von DIY-Kontexten ist, wie sie Phal:Angst seither meistens bespielten und sogar infrastrukturell ermöglichten. Das merkt man spätestens dann, wenn man sich die mitgelieferten Bandfotos anschaut, die gleichermaßen Selbstironie und Wurschtigkeit transportieren: Was ist sympathischer als eine Düsterband, die sich für die Releaseporträts nicht mit ausgefahrenem Mittelfinger vor einer brutalistischen Kirche, sondern mit ein paar Schwechater-Dosen am Wiener Gürtel platziert? Das geduldige Bandbestehen offenbart sich auch in deren Kontaktbuch: Mit Remixes von Brian Williams aka Lustmord und Jarboe Deveraux (Swans) befindet sich die Handschrift zweier Künstler*innen auf dem Album, die ihre ersten Releases in den Schwarzen Szenen der frühen 80er-Jahre hatten.
What a time to be alive«, um die Tracklist zu zitieren. Regisseur Paul Poet attestiert in den Liner Notes eine stilistische Kombination aus Mogwai, Nine Inch Nails und Godspeed You! Black Emperor. Warum also so kurz vorm Jahresende noch mal neue Vergleiche anstellen, wenn diese einfach unterstrichen werden können?(VÖ: 13. Jänner) Sandro Nicolussi (7/10)
(Noise Appeal Records) Gli austriaci Phal:Angst escono dalla comfort zone della loro label underground Bloodshed666 Records e, per il quinto album, si affidano alla sempre connazionale Noise Appeal Records (la quale compie 20 anni), sempre legata all'underground, ma decisamente più visibile e prolifica. "Whiteout" è oscuro, è tetro, è malinconico, un post rock analog-elettronico, industriale in modo disturbato, meravigliosamente uggioso, un cosmo pieno di sonorità delicate, lente, profonde, infinitamente introspettive. Una band strana e molto alternativa che trova radici nel punk/hardcore fatto in casa degli inizi degli anni 2000, deviando poi verso lo stile attuale ed affermandosi come band totalmente indipendente, dalla composizione alla pubblicazione digitale attraverso risorse privare, specialmente la piattaforma non commerciale 'med-user.net' creata dall'attivista Angst, il membro della band che si occupa dei suoni elettronici. L'attivismo di Angst si espande, diventa contenuto politico e approda alla musica dei Phal:Angst, anarchici, palesemente ribelli, decisamente controcorrente, poeticamente affascinanti. Musica che diventa il fratello decadente delle sonorità degli Ulver, passando per dimensioni occupate da Neurosis, pure da Godflesh se vogliamo, specie per quanto riguarda l'incisivo incedere ipnoticamente ossessivo. Sonorità individualiste, esplicitamente idiosincratiche, fuori dagli schemi prevedibili, ricche di beat, di avvolgente atmosfera a tratti cinematografica, di samples vocali che sembrano materializzarsi nell'etere provenendo da un nulla immateriale, sconfinato, appartenente a confini siderali. E dentro questa immensa esperienza sonora, come se non bastasse, ci sono anche due versioni remix… una delle quali porta la firma dell'emblematico Lustmord. Dietro un artwork basato sui lavori dell'iconico fotografo Kurt Prinz, dentro queste prese di posizione, questa nebulosa tetra ed uggiosa, ecco che emerge con prepotenza il lato romantico, elegiaco, immensamente ispirato e deliziosamente suggestivo. Oltre un'ora tanto invitante quanto impegnativa: musica che scorre lenta, insinuandosi nella mente, nella psiche, nella carne… provocando, stimolando. Esigendo. (Luca Zakk, 9/10)
Phal:Angst aus Wien verfolgen seit 16 Jahren mit Konsequenz und Lust am Sich-Weiterentwickeln ihre Vision von elektronischem Industrial und analogem Post-Rock. Am neuen, bereits 5. Album wurde erneut ein großer Schritt in puncto Sorgfalt und Aufwand gesetzt. Ein Team bestehend aus Alexandr Vatagin (Engineer Kronos Quartett, Pauls Jets, Dives, Electric Indigo), Gerhard Potuznik (GD Luxxe, Mäuse, Labelbetreiber Angelika Köhlermann, Produktion Chicks On Speed), Alexander Lausch (Engineer Die Buben Im Pelz, Paul Plut, Mynth, The New Mourning) und Tobias Wöhrer (Leyya) hat mit der Band über 5 Monate lang produziert, konsultiert, aufgenommen, gemischt und gemastert. (6/8)
PHAL:ANGST – dieser kryptische Bandname sagte mir bisher überhaupt nichts. Dabei sind die Wiener bereits seit 2006 aktiv. Das allerdings im Industrial Post Rock-Segment, welches ja nicht gerade im Fokus des Metalleruniversums steht. Und in der Tat ist das aktuelle Release "Whiteout" auch weitab davon, unter metallischen Gesichtspunkten betrachtet (oder sollte man eher "unter Ohr-Punkten gehört" sagen?) zu werden. Die acht wirklich durchdachten Kompositionen sind mal atmosphärisch-entspannt, mal mit Industrial-Fiepsen ausgestattet. Dann sind sie einerseits äußerst meditativ, andererseits aber auch teilweise recht verstörend. Auf alle Fälle wird man während der Spielzeit von 66 Minuten – wobei der kürzeste Song ('A Tale Of Severence') fast sieben Minuten und der längste ('What A Time To Be Alive) 12 Minuten läuft – immer wieder aus einer Art chilligem Dahintreiben herausgerissen, um mit irritierenden Sounds, Breaks oder sonstigen Stilelementen aufgeschreckt zu werden. Insgesamt ist "Whiteout" ein Wechselbad an Stimmungen und PHAL:ANGSTs Intension lässt sich schwer herauskristallisieren. Wer sich mal einen Eindruck von dem durchaus interessanten Material verschaffen möchte, kann das mit dem Video zum Titeltrack tun … (Krümel)
Los vieneses PHAL:ANGST comienzan el año con un nuevo álbum de estudio, el quinto de su carrera, y lo hacen junto al sello Noise Appeal Records, que es el que lo ha puesto en la calle y nos ha hecho llegar la edición en formato digipack del mismo. Se titula "Whiteout" y viene presentado con una imagen fría, desoladora y decadente que de alguna manera nos avanza las sensaciones que encontraremos a lo largo de los temas que componen el álbum. Un trabajo que se gestó con la colaboración de un amplio equipo formado por Alexandr Vatagin (ingeniero de KRONOS QUARTETT, PAULS JETS, DIVES, ELECTRIC INDIGO), Gerhard Potuznik (GD LUXXE, MÄUSE, co-propietario del sello Angelika Köhlermann y productor de CHICKS ON SPEED), Alexander Lausch (ingeniero de DIE BUBEN IM PELZ, PAUL PLUT, MYNTH, THE NEW MOURNING) y Tobias Wöhrer (LEYYA).
Para quien no los conociera previamente diremos que PHAL:ANGST son una banda con cierta veteranía, que comenzó hace dieciséis años y que ha estado involucrada en la escena DIY Punk/Hardcore, aunque actualmente sus intereses musicales giran en torno a la Electrónica, el Industrial y el Post Rock, e incluso algo de Goth. De este modo en su nuevo álbum nos vamos a encontrar pulsos artificiales, ambientes misteriosos y oscuros, voces negras y ecos lejanos, en medio de unas composiciones casi minimalistas que se prolongan bastante. El sonido es frío y artificial, te envuelve dentro de una atmósfera decadente, logrando contagiarte el feeling de las canciones. No es que haya grandes momentos ni temas destacables, pero el conjunto funciona bastante bien si te gusta este tipo de sonidos. Como curiosidad cabe destacar los dos remixes con los que se cierra el álbum, realizados por los iconos del Industrial/Dark Ambient Brian Williams aka Lustmord (CURRENT 93, NURSE WITH WOUND, SPK, GRAEME REVELL, TERROR AGAINST TERROR, FIRST REFORMED) y Jarboe (THE SWANS).
Industrial, Dark Ambient, Drone, Goth Rock, Electronic, Post Rock… muchas son las etiquetas que se le pueden poner al nuevo álbum de PHAL:ANGST, aunque más allá de influencias y mezclas en "Whiteout" vas a encontrar sensaciones frías y oscuras que te acompañarán durante más de una hora. Un trabajo que inunda el ambiente con sus sonidos lentos y mecánicos, que no es apto para el gran público pero que seguro encontrará la aprobación de quienes sigan esta escena. (7/10)