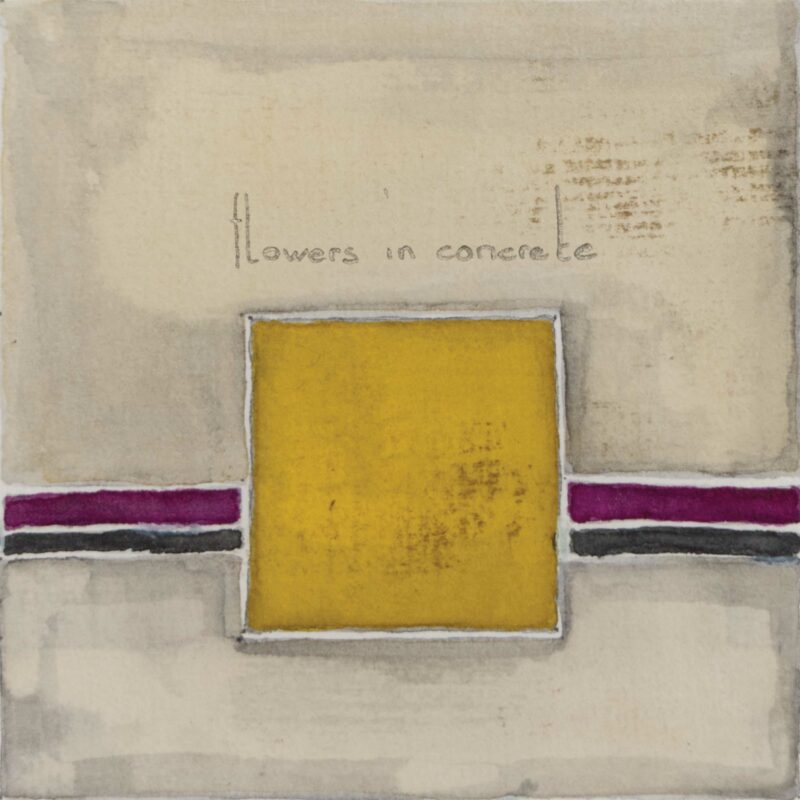 FORMAT
7″
STATUS
available
RUNNINGTIME
6:29
TRACKLIST
1. Propaganda
2. Die Mauern nieder
RELEASE DATE
26.08. 2022
Erst gab es die Herren, dann 15 Jahre nicht, seit 2018 ist der Grazer Dreier wieder zugegen. So kurz lassen sich manchmal Bandgeschichten abhandeln. FLOWERS IN CONCRETE aus Weiz haben sich nach der langen Pause wieder zusammengerauft und mit der Split 7" mit "Hella Comet" (2018) und der Spit-LP mit den Wiener von "Dim Prospects" im Jahr 2020 zwei neue Songs auf einer seven inch herausgebracht.
Die beiden neuen Songs werden am 28. Jänner im Weizer Volxhaus neben allen Bandklassikern präsentiert. Im Herbst soll eine Tour durch Deutschland, Tschechien, Slowenien und Österreich mit einer griechischen Band im Gepäck gefahren werden.
Zurück zur Musik. Die beiden Songs sind knackiger Hardcore Punk mit schönen BAD RELIGION Refrains, schön hart und mit klugen Texten versehen. In Zeiten in denen Leute, die den deutschen Gruß auf der Bühne entboten haben und die die Schlachtflagge der Union quer über das Bühnenbild drapieren, wortgewandt entschuldigt werden, in Zeiten, in denen von Festungen gesprochen wird und ganze Landstriche sich einen starken Mann wünschen, sind solche Texte labend und wünschenswert (wem auch immer das nicht passt, sage ich erneut: mein Review – meine Meinung!).
Wo ihr die 7″ beziehen könnt erfahrt ihr bei bei Flax, den Bassisten der Band via E-Mail: flax73@aon.at oder auf der Facebook-Seite der Band.
Für Fans von hartem Hardcore Punk mit viel Melodie, Drive und Härte. Kann man so machen. (Christian Wiederwald, 4/5)
It's been a while since I heard anything about Flowers In Concrete. I had a chance to review their split LP with Dim Prospect, which immediately knocked my socks off. I instantly fall in love with the music of this band after listening to their side of the split. Thankfully, the band kept themselves busy as much as possible, so they recorded two new compositions that ended up on a self-titled 7″ record released by Noise Appeal Records about a week or two ago. It arrived at our headquarters today, so I put all other duties aside and decided to write a couple of lines about it.
As I mentioned above, this fine piece of plastic carries two excellent melodic punk rock numbers, Propaganda and Die Maudern Nieder. If you aren't familiar with Flowers In Concrete, then you should probably know these guys are not into the contemporary melodic punk rock sound. Of course, there are some elements of it, but it seems the trio leans much more towards the late eighties to mid-nineties approach when, besides soothing melodies, harmonies, and singalongs, bands used to spice things up with a healthy dosage of the sheer aggression. Even that dosage of aggression is hard to explain. It's not likely you will stumble upon some ferocious shoutouts, thrashing riffs, and ultra-fast beats, but you will love how Flowers In Concrete blend the mellow and heavier side of punk rock music.
Propaganda and Die Mauern Nieder are fine examples of how melodic punk rock, streetpunk, and melodic hardcore can articulate together in harmony without spoiling each other. Flowers In Concrete are pros in shaping that unique ambiance that resembles British streetpunk meeting the European school of punk rock, but also with the presence of melodic hardcore lurking around somewhere in the mix. With all these genres served on the plate, I can state that the new Flowers In Concrete material sound diverse as it could be but still leans toward straightforward punk rock. These guys obviously know how to write, compose and produce excellent punk rock numbers without sounding repetitious and boring. Quite the contrary, you'll enjoy each segment implemented in these two tracks. Head to Noise Appeal Records for more information about ordering this punk rock gem.
Ox-Fanzine #164
Großartige Single der seit 2018 reaktivierten FLOWERS IN CONCRETE aus der Steiermark. "Propaganda" und "Die Mauern nieder" heißen die neuen Stücke, die das Formhoch der Band nach der Split-LP mit DIM PROSPECTS verlängern und ausbauen. Tom Zwanzger hat den perfekten Sound gemacht, Tom, Flax und Pepi zeigen ihre Meisterschaft mit ihrem unverkennbaren Hardcore, der heavy und eingängig zugleich ist. Wie die Stimmen von Tom und Flax dabei ineinanderfließen und die Texte transportieren, die zeigen, dass sie sich nicht unwidersprochen mit den Blödheiten der kleinen und großen Welt abfinden, berührt und inspiriert. (Rainer Krispel, 8/10)