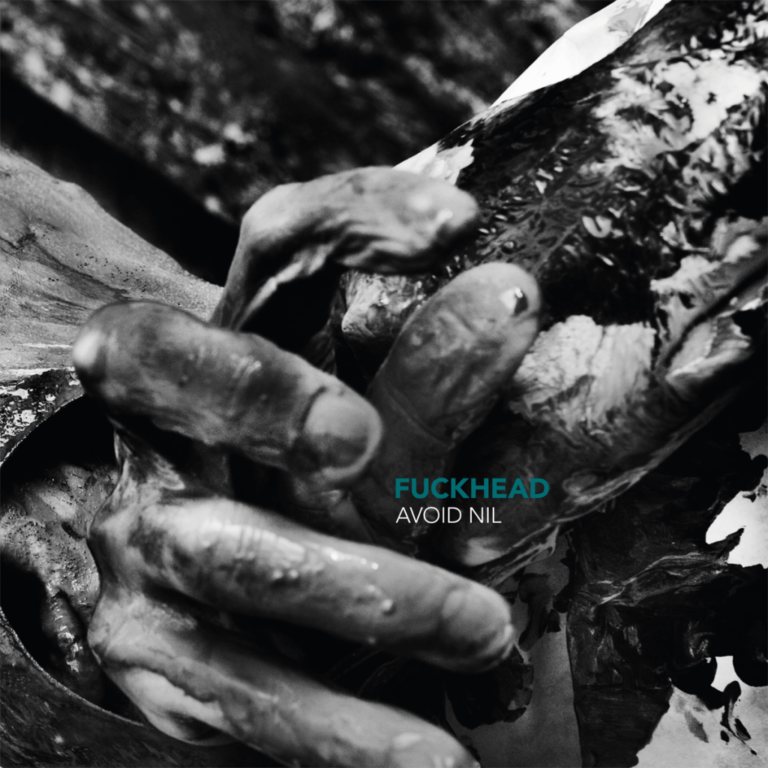 FORMAT
LP

STATUS
available

RUNNINGTIME
33 min. 45 sec.

TRACKLIST
01 Ionized Johnson
02 Relayed
03 Invisible City
04 Black Money
05 Der Zweifel
06 New Flesh
07 The Big Upsetter
08 (Me) Shiny Scumbag

PRESSING INFORMATION
300 made (270 regular version, 30 including one random handmade A4 print; 6 different sujets available)
download code included

RELEASE DATE
02.09. 2013
thoughtswordsaction.com
Here's another good one from the recent batch of records sent by Noise Appeal Records. Once again, I am going back into the past and exploring the luxurious Noise Appeal catalog, and the release I picked up for today is unquestionably unique. Those who read my reviews regularly probably already know that this record label doesn't hesitate to publish anything if it sounds good. Noise Appeal is known for its quality over quantity, but I have to admit this particular record stands out from the crowd in its uniqueness. Of course, it sounds marvelous, but it's not something you stumble upon at Noise Appeal every day. They're much more into heavier underground genres and indie sound, while Avoid Nil by Fuckhead leans much more towards experimental, industrial, electronic, and avant-garde music.
Fuckhead is a Vienna-based experimental trio with over three decades of rehearsing, recording, and performing. Their experience bursts through these eight powerful tracks, fully stacked with every possible subgenre of electronic music you could imagine. It's even difficult to define what would be the primary sonic direction because Fuckhead stray into the depths and fundamentals of each of them with such ease. You'll notice experimental electronica, industrial, glitch, dubstep, drum and bass, and breakbeat, but also noise, ambient, drone, and maybe some other obscure avant-garde music genres. These continuous levitations between standard and avant-garde electronica perfectly match the dark ambiance that Fuckhead tries to achieve through their sound.
These guys unquestionably know how to assemble tracks that will tickle all your senses and force you to delve deep into their obscure, eerie, dark sound. Still, unlike most of the artists who explore the elements I mentioned above, Fuckhead lean much more toward the experimental and avant-garde music. You'll notice that Avoid Nil is not related to any commercial aspect of electronica and probably has much more to do with glitch, noise, industrial, ambient, and drone. Their compositions range from downtempo, chillout, and ambient tracks to more noisy, glitchy, abrasive, raw, industrial numbers solely drenched in dubstep beats. Each ingredient integrated into these compositions sounds detailed, complex, and multilayered, with many energetic rhythmic sequences, melodies, harmonies, and leads. It's nearly mindblowing how everything works to the advantage of the dark ambiance.
Avoid Nil will be right up your alley if you're into experimental and avant-garde electronica. You should give this album a listen even if you're not into these genres at all because Avoid Nil provides such a unique listening experience rarely seen nowadays. The standard black vinyl comes with a high-quality cardboard sleeve decorated with an abstract visual identity. You can also check out Avoid Nil on all streaming services, but the vinyl version sounds much better and with more details included. You can grab Fuckhead vinyl bundle at Noise Appeal Records.
ninehertz.co.uk
Fuckhead has apparently been around since 1988. A long time to be making this kind of music, but also a long time to have absorbed influences from the smorgasbord of music that has passed by in that time.
The first effort for 15 years, Avoid Nil is interesting in that although full of harsh noises and unpleasant sentiments it is actually quite listenable. Taking on a steady beat helps this no end, but opener Ionized Johnson has an almost New Order stomp to it, despite the glitch-esque idiosyncrasies on display and the low, aggressive rasp which the vocals take on. Samples of traditional instruments clash perfectly with more digital and corrupted samples and that's engaging in itself.
Jazz piano clashes with dubstep bass wobblings on Relayed too, showing that Fuckhead, despite the infantile name, has soaked up mature influences and it appears not to be about creating a noise collage, rather an accessible, if startling sound that's honed and wouldn't even seem out of place in a club.
There's some twisted vocals that sound like a robot losing its mind on Invisible City. A digitised voice laments My memory… is so limited before listing countries in an unhinged and strange way. Amusing as well as unsettling, nice.
The dubstep influences creep into the excellent New Flesh where he sounds like a mad scientist babbling into a dictaphone about sinister experiments. The vocals here are untreated and reveal that Mr Fuckhead actually sounds like Ian Curtis, with a deep and tonal timbre to his voice, but with some immature phrasings that mean the eccentric scientist analogy stands up even more.
This voice develops almost to ridiculous levels on The Big Upsetter making him sound like a drunk version of The B-52s' Fred Schneider, all camp enunciation and manic stylings. This only continues on the closing track Shiny Scumbag which takes this detached contemplation to new levels of self loathing, meaning the album has gradually moved from calm and self-assuredness to a picking apart of the brain and self. It descends into glottal sounds, moaning and laughing towards the end. There's even a few raspberries in there.
Delightfully manic and absurd, but where do you listen to this? In the car, you'd start driving into lakes for fun, on headphones you'd walk into shops just to upend display cabinets and at home, you might start writing frank and personal emails to everyone you know with no sign of regret. Approach with caution, it's an odd one.
falter 44/2013
25 Jahre Fuckhead: Zum Jubiläum gibt es nach langer Pause wieder ein neues Album, die Aktivitäten haben sich zuletzt doch stark aufs Performative konzentriert. Umso unerwarteter kommt die akustische Gnackwatschn. Die Musik ist nicht so ausgearbeitet wie bei "Video Arena" (1994), nicht so avanciert wie bei "The Male Comedy" (1999), aber dafür schiebt der Sound ordentlich. Brachiale, Feingeister auf Distanz haltende Beats überwiegen, manchmal erlaubt sich Sänger Didi Bruckmayer auch einen Kunstlied-Moment. Erfrischend wie ein Säurebad. (SF)
www.musicaustria.at
Fuckhead, die in diesem Jahr ihr 25-jähriges Bestehen gefeiert haben,  sind längst dem Stadium entwachsen, sich auch nur in geringster Weise um irgendwelche Erwartungshaltungen scheren zu müssen, was die Band rund um Didi Bruckmayr im Grunde genommen eigentlich so und so nie getan hat. "Avoid Nil" (Noise Appeal Records), so der Titel des neuen und ersten Albums seit 15 Jahren der im Auftritt vielleicht verrücktesten Formation Österreichs seit Drahdiwaberl, darf auf alle Fälle einmal mehr als ein Statement für die scheuklappenbefreite und kompromisslose Umsetzung der eigenen musikalischen Positionen aufgefasst werden. Wie man es von der Linzer Truppe eigentlich gewohnt ist, stellt sie den Common Sense der üblichen Musikgeschmäcker erneut auf eine harte Probe, wenig bis gar keine Melodien, verstörende Sounds im tiefsten Schallbereich, wirrste und schrägste Klangästhetik, unentwegt heftig nach vorne treibende Beats, abrupte Brüche der Songstrukturen und natürlich viel, viel aktionistische Theatralik.
Sich durch ein Album von Fuckhead zu hören, ist so, als würde man mit 100 Sachen frontal gegen eine Stahlmauer fahren, mit dem Unterschied, dass man, sollte man dieses Abenteuer im zweifelhaften Fall überleben, sich sofort in den nächsten Wagen setzen und wieder voll Gas geben würde, eben weil es sich um  ein solch unvergleichliches  und emotional aufweckendes Erlebnis handelt.  Zwischen alle der Härte, dem vermeintlichen Chaos, den atmosphärischen Bedrohungsszenarien, der klanglichen Kälte, den ausufernden Lärmeskapaden, sowie dem genüsslichen Spiel mit Extremen findet sich nämlich immer dieser besondere, nicht wirklich definierbare künstlerisch gehaltvolle und anziehende Ansatz, der die Musik der vier Herren Didi Bruckmayr, Siegmar Aigner, Didi Kern und Michael Strohmann dem gewöhnlichen musikalischen Rabaukentum enthebt.
Das aus Elementen aus dem Techno, der Elektronik, Neuen Deutsche Welle, dem Dub Step, Industrial, Punk, Noise, Ambient und Breakcore gespeiste düstere und morbid angehauchte Soundtheater auf "Avoid Nil" zeigt sich erneut als die gelungene Dekonstruktion der gewohnten und von Harmonien bestimmten Musikalität. Um es vielleicht etwas bildlicher darzustellen: Man nehme Konsorten wie Aphex Twin, Squirrelex, Rammstein, die Einstürzenden Neubauten und ähnliche Formationen her, und versuche diese zu einem einzelnen Wesen zu klonen, mit dem fatalen Ergebnis aber, dass das Experiment scheitert und am Ende eine in ihrer musikalischen Form bösartige Kreatur erschaffen wird, die ein für alle Mal mit dem, was unter dem Begriff Mainstream zusammengefasst ist, aufräumen will, was sie letztlich auch ohne Gnade tut.
Es geht bei Fuckhead immer um die Wirkung, und die haben die Nummern auch auf "Avoid Nil" die Energie eines Vorschlaghammers, eines solchen aber, der Stil und Niveau besitzt. (mt)
planet tt magazin
Die Truppe Fuckhead aus Linz rund um die wilden Bruckmayr-Brüder (der volltätowierte Wirtschaftsdoktor Didi erscheint auf den ersten Blick wilder) & Ausnahme-Drummer Didi Kern sind weltweit als Performance-Art-Act & Noise-Künstler berüchtigt. Die BBC reiste für ihre Noise-Musikdokumentation zwar schon extra für sie an, insgesamt ist es aber schon verwunderlich, dass sie nicht an der globalen Speerspitze was Noise- & Performance-Kunst angeht, stehen. Der erste reguläre Tonträger seit 15 Jahren! Das gibt vielleicht schon einen Erklärungshinweis. Anyway, das Ergebnis besticht: Versuche sanfter Balladen, schwere Discodepression & Freejazz, Postrock, Sounds einer Abrissbirne gleich und wirre Monologe über Politik, Ökonomie und Selbsttäuschung. Kongenial bebildert vom performativ-visuellen Kunst-Duo Stirn Prumzer!
www.kulturterrorismus.de
FUCKHEAD konzentrieren sich auf Liveauftritte, anstatt handfeste Alben zu produzieren, weshalb mit "Avoid Nil" nach 15 Jahren Schaffenspause (im Bezug auf Releases gemeint) der erste reguläre Tonträger das Licht der Welt erblickt, der eine dadaistisch chaotische Melange aus Industrial, Punk & Breakcore/ Techno eröffnet.
"Avoid Nil" veröffentlichen die Wiener FUCKHEAD über den heimischen Verlag NOISE APPEAL RECORDS, der die eindrucksvolle Vorstellung (mit winzigem RAMMSTEIN Touch) zeitgemäß als Vinyl (12inch) Digital (Bandcamp, iTunes, usw.) vermarktet.
Ausweichendes Nichts ("Avoid Nil"), der Titel, welcher 8 Tracks zusammenfasst, die sozialkritisch die Gesellschaft und seine Auswüchse ('Black Money') beleuchtet, aber auch Visionen ('The Big Upsetter') aufzeigt – meine Interpretation ist ohne Gewähr, vielleicht verfolgen DIDI BRUCKMAYR, SIEGMAR AIGNER, DIDI KERN & MICHAEL STROHMANN hinter FUCKHEAD ganz andere, hehre, Ziele!
Industrial, Punk & Breakcore/ Techno sind die Stützen von "Avoid Nil", woraus FUCKHEAD einen kurzweiligen Soundtrack schmiedeten, dessen unzählige Facetten verstören, aber auch packen. Zwischen teilweiser Tanzbarkeit ('Invisible City') und morbider Atmosphäre ('Der Zweifel') pendelt FUCKHEAD's "Avoid Nil", das eine Hördurchläufe benötigt, um die detaillreiche Gesamtheit zu evaluieren.
Anspieltipp? "Avoid Nil" – insgesamt ein Werk von hohem Anspruch, welches entweder auf ganzer Linie fasziniert oder missfällt, eine Grauzone existiert bei FUCKHEAD defacto nicht!
Fazit: FUCKHEAD präsentieren mit "Avoid Nil" ein bewegendes Schmankerl, dessen intensiver  Facettenreichtum (weit über die Spielzeit hinaus) berührt, packt und verstört – meine absolute Empfehlung! Individuen, die das BESONDERE suchen, kommen um FUCKHEAD'S "Avoid Nil" nicht umher!!! PS: Alles Gute zum 25jährigen Bestehen von FUCKHEAD!!!
www.haubentaucher.at
Die Herrschaften kennt man sicher, wenn man einen 6er oder 7er am Anfang des Geburtsjahrzehnts hat. Seit 15 Jahren, man glaubt es kaum, haben die Fuckheads keine reguläre Platte herausgebracht. Zeit is' worden! "Avoid Nil"zeigt auch den Nachgeborenen sehr deutlich, wo der Bartholomäus seinen Vorschlaghammer versteckt hat. In der Disco nämlich – oder doch in der Industriehalle? Die Platte gibt es als edles Vinyl, 30 Stück sind sogar exklusiv mit Photoprint erhältlich, für Menschen, die das Besondere lieben. Für alle Käuferschichten gilt es freilich eine Warnung auszusprechen: Fuckhead. Nur für Leute mit soliden Geschmacksnerven.